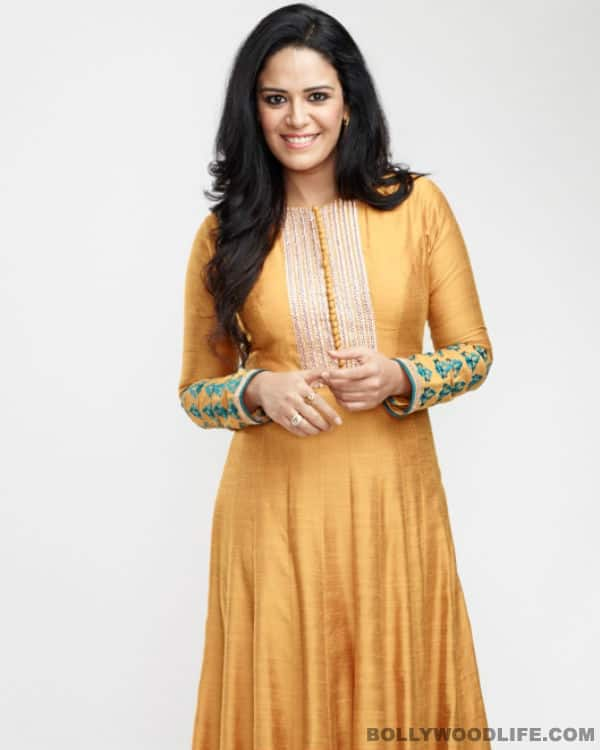 The bubbly actor talks about her latest fetish for adventure sports, completing 11 years in the television industry, her return as the host of Entertainment Ke Liye Kuch Bhi Karega and new host – Krushna Abhishek
Mona Singh became a household name after her first show, Jassi Jaisi Koi Nehi. 11 years in the industry and the vivacious actor has no airs about her star status or popularity. She is warm, sweet, bubbly and her laughter is contagious. Guess we agree with Krushna Abhishek when he said, 'Mona is crazy'!
You have been on a break for a year now. What has been keeping you so busy?
After my show, Kya Huaa Tera Vaada, I took a break to reinvent myself. I have been holidaying in Australia for some time, during which I took a fascination to adventure sports. I went for scuba diving and skydiving and a few others. Then I went for baking classes, I learnt how to play the guitar, but am still a very amateur baker and guitarist. I can play Kya huaa tera vaada on my guitar. (Giggles)
How has your journey been in the television industry?
I think, I have been very lucky as an actor to be part of shows that not only believe in entertainment but also in inspiring people. I realised that being a celebrity, you have a responsibility to encourage people in a certain way. So I took it upon me to make sure that I inspire the youth in whatever shows I did. Like that, Jassi Jaisi Koi Nehi was the best thing that happened to me. After that, I was approached for Kya Huaa Tera Vaada, which encouraged housewives to go out and stand up for themselves. I know many women who succumb to the situation because of their kids and family, but after Kya Huaa… I got so many fan mails from women, thanking me for helping them through my serial. I felt so happy that I could bring about some change in people's life with my work. So my journey till now has been beautiful. This is my 11th year in Mumbai. I never thought 11 years would just pass by. I came to Mumbai in 2003 – with no friends or contacts. I had just passed out of college. I am glad that people loved me and my work. Sony TV has been lucky for me; so I am extremely grateful.
What has been the most entertaining act on Entertainment Ke Liye Kuch Bhi Karega 5?
Every single episode is filled with entertaining acts. There was an act where some guys came dressed as Sridevi and danced to the legendary actor's popular song Hawa hawai from Mr India. It was quite hilarious.
Are you showcasing any of your newly learnt talents on the show?
I play the jambe – the South African drum in an episode. The other talent I showcase is jumping on the trampoline wearing a saree.
Was it difficult to cope up with Krushna's comedy?
There is no competition. It's all in the family. We are all equally mad. I am totally enjoying hosting with Krushna. In fact, people came up to me and asked if we've ever worked together before. Frankly, we just really clicked. He is so brilliant with his timing that he keeps all of us in splits. We are constantly giggling during the shoot. The gong man in the show is supposed to be extremely serious but he keeps cracking up because of Krushna. So our director has to keep reminding him, 'shut up, don't smile!'
Once you get a break in the movies people don't often come back to television, but you have been balancing both very well. How do you manage to do that?
I believe I am the only one who never said that I am quitting television for films. Why should I quit something to go somewhere else? Why can't I balance both? Being a Libran, it's in my genes. I was very excited to be a part of films and am fortunate enough to be a part of the television industry as well. Yes, after 3 Idiots, I got several offers but they were all roles of a pregnant woman, which really surprised me.
Do you think it is easy to get typecast in Bollywood?
Absolutely, I don't understand why people come with the same kind of offers. I am here to act and challenge myself not get into a comfort zone.
Do you think it is tough to get a solid foothold in films?
I do not know that. See, I never went out asking for roles in movies, neither did I meet directors. Television was always coming up with good projects for me, so I never felt the need of going out and looking for movies. I decided that whatever comes my way, I will take it up if it is interesting enough. Recently, I shot a film with Chandra Prakash Dwivedi called Z-Plus. We were shooting for this movie in Mandava ( in Maharashtra) for almost two months. It is a political satire and we just finished shooting. I am playing the lead role with my co-star Adil Hussain. I am doing a very different kind of role in this film.
Have you tried your hand at Punjabi films?
No, I haven't. It's my father's dream to see me in a Punjabi film, running around the field singing songs. My dad was disappointed 'coz being a Sardarni, I have not done any Punjabi movies.
If you had to pick a fiction show, what kind of roles would you look for?
I would look for anything that really excites me. Jassi… excited me, Kya Huaa Tera Vaada excited me, Radha Ki Betiyaan where I played a grey character also excited me. So yes, anything that is not in my comfort zone excites me.