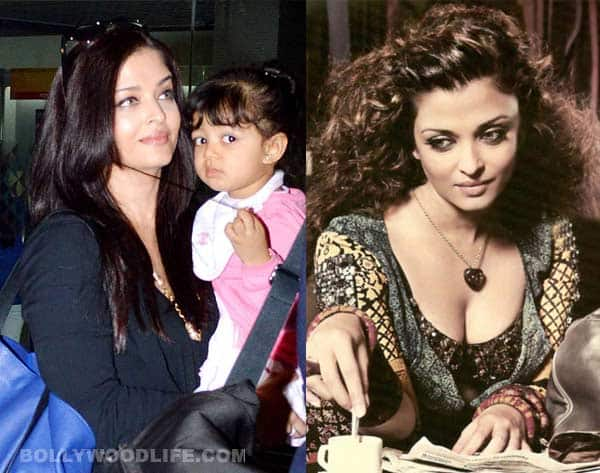 skip advertisement
Aishwarya-Rai-Bachchan-090514
Ultra-glam yummy-mummies are knocking on the doors of Bollywood once again. BollwoodLife highlights the USP of these hot mommies!
They had audiences raptly watching their jhatkas and matkas and ruled the silver screen with their magnetic charm and unparalleled charisma for many years. While Madhuri Dixit and Sridevi carved a special niche in our hearts, screen scorchers like Shilpa Shetty, Sonali Bendre and Aishwarya Rai Bachchan set our pulses racing every time they blinked a nicely mascaraed eyelash. And then they vanished into their own lives, managing home, hearth and husband and setting up special worlds that we were not privy to. But today on the eve of The Mother's Day we decide glorify B-town yummy mommies and cherished the sizzle factor that makes them so hawttt!
Sonali Bendre: This Marathi mulgi has upped our chart of yummy mummies with solid credentials. Highly underrated otherwise when it comes to her showcasing hot mom persona, especially when compared to other B-town divas, but in our collective heads Sonali still remains the stuff yummy mummies are made of, no?
Aishwarya Rai Bachchan: Ash…errr Aishwarya is on her way back to what she has always been-an exquisite blend of beauty, elegance and enviable symmetry. motherhood took a natural toll on the world's most beautiful woman. But hey, Ash never complained. In fact, she showed the inorganic and ruthless world of fashion that being a mother is the most beautiful phase in any woman's life. Certainly, Ash didn't give a hoot when the press thrashed her for her ever-ballooning body and that puppy fat. But now we see the next chapter in Aishwarya's life unfold, steadily but surely. The angelic beauty is on her way to be her fittest best.
Shilpa Shetty Kundra: This leggy lass is just year away from turning 40! But her swelte figure and commitment to look super fit and fabulous wil put a twenty something gals to Shame. She might have spin a mother, yet that has not stopped her from shedding – well, reason your exhale – 20 kilos, to rebound behind to being her common voluptuous self and grasp that enviable figure, maybe with a small some-more oomph and lusciousness.We thinks her committed yoga use and despotic aptness report joined with a integrity to keep fit has worked in her favour.
Sridevi: We see Sri – the yummy mummy, the actor extraordinaire and the diva that she still is – showcasing her acting skills on celluloid and at the same time posing effortlessly for the lens to scorch the cover of the leading glossies. Sri's lean yet toned body, the elegant outfit she chooses to don and the million dollar smile enhance her undeniable, ageless charm. You just can't miss the high gloss, elegance and opulence oozing through every appearance she makes!
Kajol: Bollywood's most vivacious yummy mummy and the powerhouse of talent is just a couple of months away from her 40th birthday but her effervescence and the elegant charm she has about her is unparallel. It's been quite some time since this talented star was seen on the silverscreen last though she has been making her spirited presence felt through some really noteworthy commercials on the small screen. Much like her ardent fans and cinegoers, we too at BollywoodLife have been missing Kajol's liveliness and wish to see her soon on the silverscreen.
Celina Jaitley: Celina was blessed with two sons in March and the hot babe was over the moon We wonder how Celina managed to slip into that sizzling blue bikini barely four months after the delivery of her twins! , Celina was safely tucked away in some distant corner of the world, away from the media glare. And now here is the ravishing mum, displaying her hot body in a bikini. How did Celina managed to get back to her bikini-fit bod, and so quickly?
Madhuri Dixit Nene: Despite being the mom of two gorgeous sons Mrs Nene continues to mesmerise us with her million dollar smile with the way only she can. The dhak-dhak babe may not be the youngest blood around but she stills makes our herat skip a bit everytime she unleashes her dhak dhak andaaz!