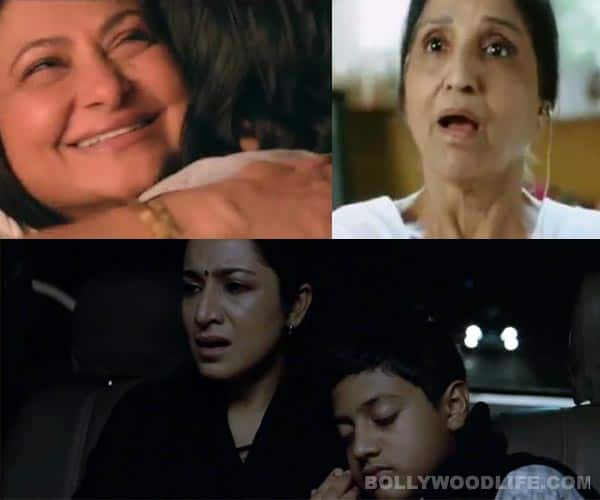 Here are the top three mother's day songs which will remind you of your mother every moment of your life
Mother's day has been a special day in every individual's life. Even in Bollywood, mothers have had a special place. Whether it is Nirupa Roy or Dina Pathak or Farida Jalal or Waheeda Rehman, every mother has been equally respected by their onscreen sons and daughters. Dialogue writers have time and again come up with special dialogues on mothers. Mere pas maa hai, Maa ka laadla bigad gaya, Agar maa ka doodh piya hai to samne aa, Main tumharay bachhe ki maa ban-nay waali hoon, Ghar mein maa behen nahin hai kya and many such dialogues have always laid the importance of being a B-Town mother. Also there have been numerous songs which have described a mother's love. Here are some of the songs in the recent past, which have reminded us of our moms:
Maa
Sung by Shankar Mahadevan for the 2007 film Taare Zameen Par, this song shows the pathos of a child and his/her longing for the mother. The song aply tells about a kid who is willing to do anything to just be with the family, especially the mother, but s/he has been pushed aside. Prasoon Joshi's poetic lyrics coupled with SEL's genius composition gives this song reminds you of your moms and makes you feel like spending every moment of your life with her.
Mumma
Sung, written and composed by Kailash Kher for the 2008 film Dasvidaniya, this song is a dedication to all mothers. The song very aptly tells as to what all a mother does just for the sake of their offspring. Mothers dedicate all their lives to doing good for their sons and daughters and this song reminds you of her contribition in your life. Possibly one of the best compositions ever on mothers, this song makes you want to make everyday the best day for your mother, who gave up all her personal joys just to be by your side.
Mere maa
Sung by KK for the 2014 film Yaariyan, this songs takes you back to Tare Zameen Par's song, Maa. Pritam's composition gives this song a rock and roll feeling and the high notes touch your heart. The track is certainly catchy. Penned by Irshad Kamil, this song also has another reprised version. Anupam Anand lends his voice to another version that is also equally appealing. The song reminds you of all the hardships that your mother must have had faced just to see that smile on your face.
So go ahead BollywoodLifers, listen to these songs, spend time with your mothers and enjoy this most special mother's day with your beloved moms!