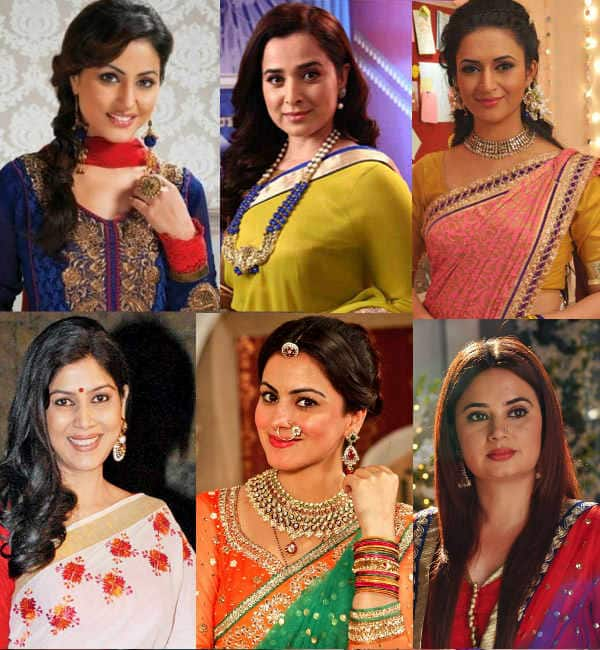 They worry, care, pamper, lecture, scold and punish you, but everything they do simply displays their love and affection. Who are we talking about? Mothers!
Tellyland has been instrumental in creating some of showbiz's ideal mothers. Some we look up to and others we stare up to in horror – but they are moms all the same. Of course, Maas in tellyland can no longer be categorised as typical or from the yesteryear generation. They all seem cool (to a certain level) and certainly behave more like friends than mothers. Be it Akshara from Yeh Rishta Kya Kehlata Hai or Pakhi Rathore from Tumhari Pakhi. We bring you a list of cool mommies from daily soaps. Vote and tell us who you think is the coolest.
Akshara Singhania – Hina Khan – Yeh Rishta Kya Kehlata Hai
This gen-next mom is caring, sweet and loving but what makes her cool is that she keeps a tab on the pulse of the new generation and moves with time. She manages to strike a balance between the kids and the grownups, thus maintaining the equilibrium in the house. She is the rock n' roll kinda mom, who also knows that a family that prays together, stays together.
Ishita Bhalla – Divyanka Tripathi – Yeh Hai Mohabbatein
It's not important to give birth to a child to be a mother. Ishita Bhalla understands that children are receptive to the atmosphere in their homes. No matter how bad a situation is, she will tell little Ruhi the truth – sugarcoated of course. Treating a child like a grown up even if she believes that Ruhi is just a child is too cool, we thinks.
Priya Kapoor – Sakshi Tanwar – Bade Acche Lagte Hain
Besides the melodrama and the constant lecture, Priya surely knows how to balance fun and work. She knows when to play with her kids and when to lecture them. She instills the knowledge of right and wrong since childhood and makes sure she follows the same rules. That's guidance by example and we think it's different and totally cool. Not that her kids are anything like her!
Sakshi Goenka – Simone Singh – Ek Haseena Thi
While she is wrong to a great extent, we think Sakshi Goenka is somewhat cool. Why? Well her tigress nature to kill anyone who harms her child is crazy but cool too. Not that we would advice anyone to follow her moral standings. And if nothing else, we believe her dressing sense surely puts her in the cool category. Don't you agree?
Dilshaad Rashid Khan– Shalini Kapoor Sagar- Qubool Hai
It's great to have a best friend in your mom. Dilshaad does not believe in judging her children. She shows them the way and believes her children will choose right. She is a shoulder for them when they cry, a confidante when they want to spill secrets and a sounding board when they wish to vent – the perfect friend!
Pakhi Rathore – Shraddha Arya – Tumhari Pakhi
To know a child you have to sometimes behave like one. From learning everything about Ayaan's favorite superhero, to his beloved cartoon and the food he loves the most – Pakhi learned it all. She befriended him and gained his trust by trusting him. In spite of punishing him when he was wrong, she showed that accepting one's mistakes is the best thing to do. She played pranks with him, but stopped him before he crossed the line – now doesn't that make her a prime candidate in our cool moms' list?
So what you waiting for? Vote and tell us, who do you think is the coolest mother on television…