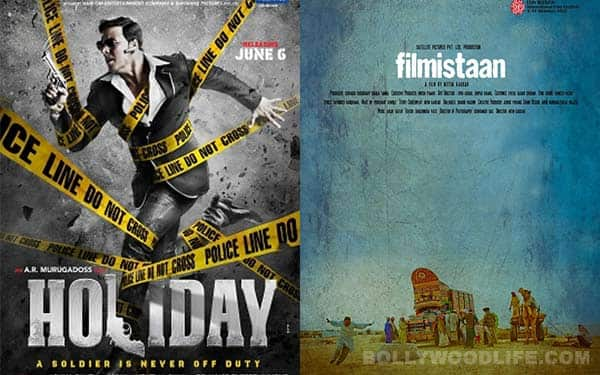 This week the Akshay-Sonakshi thriller will clash with the National Film award winner
Holiday-A Soldier Is Never Off Duty
Director: AR Murugadoss
Star cast: Akshay Kumar, Sonakshi Sinha, Govinda, Sumeet Raghavan, Freddy Daruwala, Gireesh Sahedev, Zakir Hussain, Vijay (Special appearance)
Synopsis: Akshay Kumar is an officer in the Defence Intelligence Agency (DIA) and comes home from the border for spending his vacation with his family. There he meets Sonakshi Sinha and falls in love with her. But as a soldier can never be off duty and therefore his senior officer Govinda assigns him a case where Akshay has to handle terrorists inside his city who plan to activate the sleeper cells.
Why should you watch: This is AR Murugadoss' next Hindi film after Aamir Khan's Ghajini and he has been giving big hits down South. Also, Akshay Kumar is back at doing action, which will be a welcome change to watch.
Director: Nitin Kakkar
Starcast: Sharib Hashmi, Inaamulhaq, Kumud Mishra, Gopal Dutt
Synopsis: In Mumbai, affable Bollywood buff and wanna-be-actor Sunny, who works as an assistant director, fantasizes on becoming a heart-throb star. However, at every audition he is summarily thrown out. Undeterred, he goes with an American crew to remote areas in Rajasthan to work on a documentary. One day an Islamic terrorist group kidnaps him for the American crew-member. Sunny finds himself on enemy border amidst guns and pathani-clad guards, who decide to keep him hostage until they locate their original target. The house in which he is confined belongs to a Pakistani, whose trade stems from pirated Hindi films, which he brings back every time he crosses the border. Soon, the two factions realize that they share a human and cultural bond. The film shows how cinema can be the universal panacea for co-existence.
Why should you watch: This Nitin Kakkar film has won many prestigious international awards. Also it was the winner of the best feature film at the National Film Awards last year, which makes this a must watch.