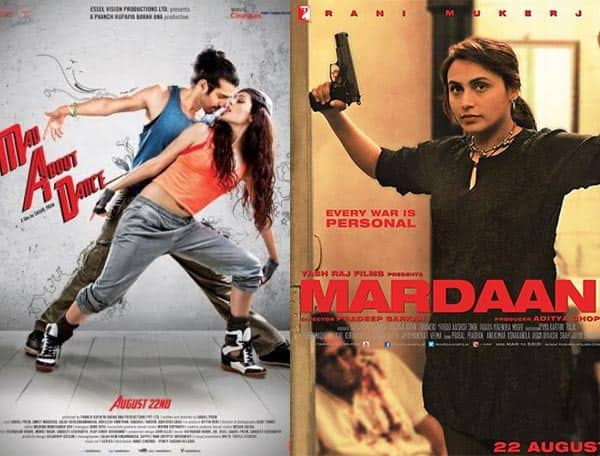 Audiences will be treated to Saahil Prem's awesome dance steps and Rani Mukerji's kick ass action sequences at the same time this Friday
Director: Saahil Prem
Star cast: Saahil Prem, Amrit Maghera, Salah Benlemqawanssa, Akhilesh Unnithan, Raashul Tondon, Abhishek Saha
Synopsis: The story revolves around a guy (Saahil Prem) who goes to study in a foreign university and finds out that Indians there are considered to be poor dancers. Being a born dancer, he sets out to put the equation right. After trying and failing alone, he decides to bring together like minded people who could dance like him and make a team to defeat the firangs. So will he succeed? We will have to wait and watch the film to get the answer.
Why should you watch: Saahil Prem's kick ass dance steps are to die for. Joining him is the hottie Amrit Maghera. So, definitely a spin off from the Step Up series, it will be interesting to watch as to whether it will work with Indian audiences or not.
Director: Pradeep Sarkar
Star cast: Rani Mukerji, Jisshu Sengupta, Tahir Bhasin
Synopsis: Shivani Shivaji Roy (Rani Mukerji) is a senior inspector crime branch, in Mumbai. She lives with her husband Dr. Bikram Roy (Jisshu Sengupta) and her little niece Meera which she is very protective of. Clever at picking up hidden clues and fearless in confronting hardened criminals with wild chase, Shivani takes on a case that changes her life. A teenage girl, Pyari, who is like a daughter to her, is kidnapped by the trafficking mafia and the mafia kingpin smuggled the girl outside the city. The mafia kingpin Walt calls Shivani and wants to know what she wants, so she will stop chasing them. Shivani asks the mafia kingpin/Walt (Tahir Bhasin) to let Pyari free, but he won't let her free, because Pyari has seen too much. Shivani Shivaji Roy doesn't know the name of mafia kingpin and she challenges him that she is going to catch him in 30 days and what follows is a cat and mouse game between a young, ruthless mafia kingpin and police.
Why should you watch: Rani Mukerji is back with another seemingly kick ass performance. The action sequences seem very hard core. Also, it is a woman-centric film dealing with a very sensitive issue and thus, will have a lot of expectations from it.