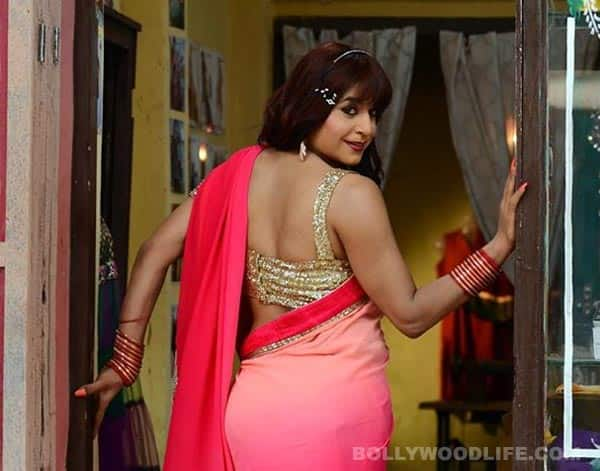 Fate deals a bad hand to Param Gulati and forces him to play a married woman – and he does it with utmost flair
Gaurav Gera can give any leading lady from tellyland a run for her money as Mrs Pammi Pyarelal. She's funny, gentle, stylish and – we can't believe we're saying this – hot!
Colors' has launched a new show called Mrs Pammi Pyarelal which tells the story of a struggling actor who comes to Mumbai in the quest to become a star. The scene opens with Param Gulati, the hero – or should it be heroine? – at a temple, ringing the bells and asking God to listen to him. Finally, the tech savvy deity decides to grant his wishes and give him a break (the filmi kind), but with conditions attached. Param's mother, who tailors clothes for a living, and his handicapped sister bid him farewell in true Bollywood ishtyle and pray that all his dreams come true.
In Mumbai Param learns that the film meant for him has been cancelled and his friend Rahul Pyarelal (Karan Goddwani), who was going to share his apartment with him, has been thrown out by his landlord. With nowhere to go, Param and Rahul search for a home. They come across a bungalow with space to rent – how ambitious!
Faujdaar Villa is home to the most eccentric family ever. The head, Kamini Faujdaar (Usha Nadkarni) is an encounter specialist and retired jailor who cannot tolerate lies. She lets her house out and insists that it's only for married couples. Rahul has Param dressed as his wife, calls him…errr… her Mrs Pammi Pyarelal and settles in, but little do the happy 'couple' know that this is a first step into a life full of complications.
The show seems like a spoof collection of films from the 70's-90's. Over-the-top reactions and dialogue delivery is entertaining. The first few episodes had us in giggles, almost rolling on the floor laughing – the effect is slowly wearing off with time.
Gaurav Gera is the star of the show. His body language, style, clothes, tone, makeup and even voice have undergone a makeover. We've seen cross dressing in several TV shows and films before, but nothing has been this convincing. Gera's comic timing is perfect and his chemistry with Rahul is crackling. Karan Goddwani is splendid as Mr Pyarelal and the ultimate con-man. Usha Nadkarni adds a star to the sitcom with her loud dialogue delivery and exaggerated anger. Rinku Ghosh, who plays Mohini – Usha Nadkarni's second daughter-in-law – is good, but sometimes irritating. Mazhar Sayyed is classic as Ranjeet; he is perfect as the comic bad-man, who has his heart set on Pammi. The rest of the cast is good enough.
The story is engaging and manages to keep you hooked with its situational comedy. This sitcom can have a long future on TV even if it's hugely inspired by films, provided they push the right buttons.
All in all, Mrs Pammi Pyarelal is a good break from the usual saas bahu drama and a good way to induce a little nonsensical comedy into an evening of TV watching.
Rating:
out of 5
Reviewed by Letty Mariam Abraham
* Poor
** Average
*** Good
**** Very good
***** Excellent