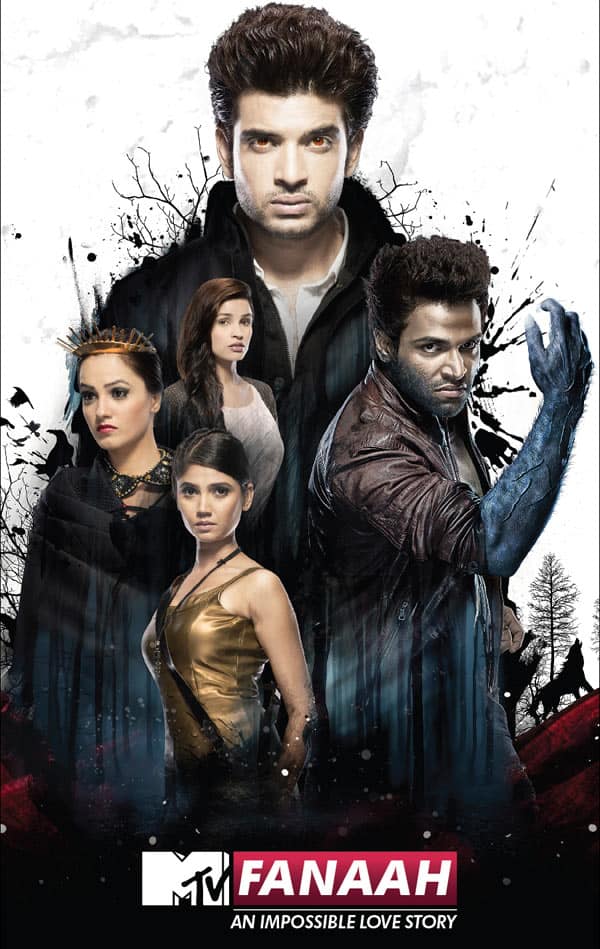 Here is our review of MTV's newest fantasy fiction show
We have seen quite a few supernatural shows involving vampires and werewolves on Indian television, but MTV Fanaah – An Impossible Love story, which features small screen's most popular faces including Karan Kundra, Anita Hassanandani, Ratan Rajput and Rithvik Dhanjani promised to be different from all the previous shows of this genre. So did it live up to it's promises and the audiences expectations? We find out…
What's it about: The show starts on a rather interesting note as we see Vidyut (Rithvik) and Vivaan (Karan), who are playing werewolf and vampire respectively involved in a gruesome fight, while Avni (Chetna) is trying to stop them. All of this makes it clear that the show involves a passionate love triangle. There is a complex time lapse, which is why the plot moves from present to past as Preet (Anita) narrates the story to a man, who is in love with Ira (Ratan). But the man doesn't know that the girl he loves is a vampire. There is much more than this, but it will only confuse you if we tell it all right away.  You'll have to watch it to know it.
What's hot: The youth oriented show features several popular and young faces from TV, who will indeed connect well with the Gen Y. All the characters in the show seem to be grey, which makes it stand out from those routine serials which portray characters as heroes and villains. We can't really say that the show is of international standards, but the way it has been shot makes it high on production value.
What's not: As we have already told you, the narration has a time lapse in it, which makes the story telling a bit complex. So by the time the first comes to an end, you are just left thinking, "What the hell did I just see!". You can't afford to miss a single episode, otherwise you will just lose the plot.
All said an done, MTV Fanaah was not bad a watch. It involves a very intriguing plot, which will indeed keep the viewers hooked. So if you are a fan of supernatural sagas, you should give it a watch. Also don't compare it with other supernatural shows from the West like The Vampire Diaries, Teen Wolf among many others coz if you do so, you will be disappointed.
Rating:
out of 5
Reviewed by Vinod Talreja
* Poor
** Average
*** Good
**** Very good
***** Excellent