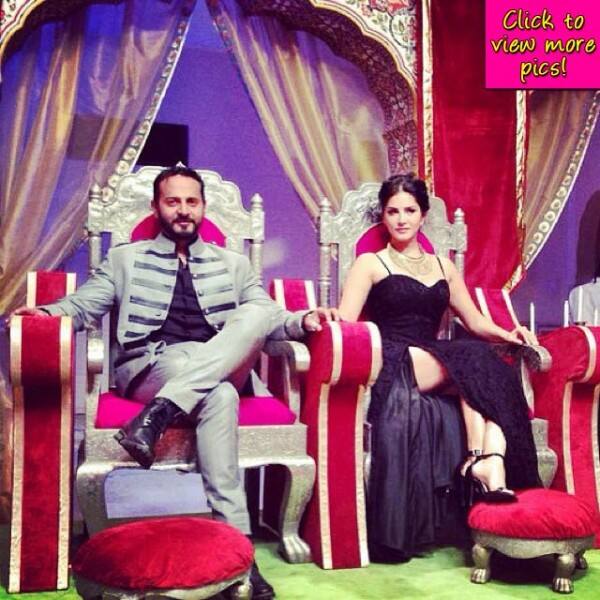 skip advertisement
The beauty alongside Nikhil Chinapa rescued seven girls from getting dumped on today's episode. What happened? Read on to find out…
Today's MTV Splitsvilla 7 episode certainly proved to be more entertaining as compared to the previous ones.
While Sunny Leone took our breath away in a black gown and golden choker, Nikhil Chinapa did the same but with his words instead of clothing. A deadly task and a nasty dumping, we give you the good and bad of tonight's show:
The Good
Bulls-eye
Ashavini and Shravan were chosen as the contenders for the position of the king in Splitsvilla by girls, on the basis of their last week's performance. The two celebrity boys were seen competing in a strenuous task which required them to shoot arrows to get the perfect mark followed by breaking down a brick wall to get to the other side of the field. Shravan played well and emerged as the deserving king of the villa.
They got dumped, they were stumped
Splitsvilla 7 witnessed its first dumping ground in today's episode and the highlight of it was the big fight that broke out between the celebrity boys. The fairytale land of Samode palace saw a shocking twist in the tale with the book of fortune stating that seven girls would be dumped by the king. However Sunny Leone and Nikhil Chinapa turned the tables around by giving the boys an opportunity to save their choice of contestants. Instead of seven two girls were seen leaving the show. Well looks like Sunny was a hot superwoman to the rescue eh?
The Bad
Shravan the "Mad King"
Shravan with his kingly air failed to impress and faced the wrath of the villa for the same. He was seen dumping Sanjana along with implying that she was a lady with a questionable character. Shravan's reasoning certainly brought on a lot of finger pointing along with him being termed as the "mad king." Sanjana on the other hand was visibly distressed and called him "the most disgusting man she has ever met."
When Ashvani missed his mark
The episode witnessed a hilarious point where Ashwani was seen repeatedly missing his mark on the score board where he was supposed to plant an arrow with his draws. His arrows were flying all over the place and the failed attempt made him lose his brownie points. The lad further disappointed when he failed to break the wall and get to the other side. Well, better luck next time Ashvani!