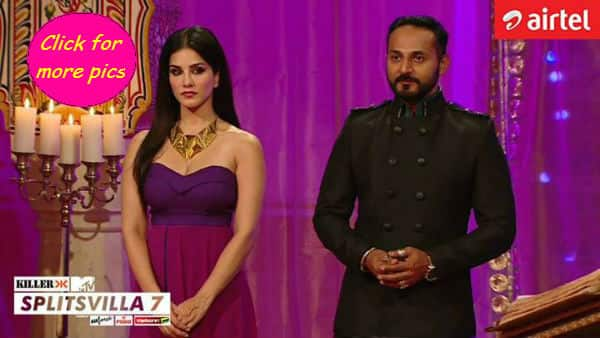 skip advertisement
The hot Splitsvilla host witnessed a moment that worried her like never before. What happened? Read on to know more…
As the weeks progress, MTV Splitsvilla 7  seems to be getting more controversial by the minute.
With love, hatred, heart brakes and hook-ups, this show is witnessing some very dramatic moments indeed. We give you the good and bad of tonight's episode:
The good
Ashwani dulhania le gaya
Though it was sad to see Ashwani and Sanjana exiting the show, the bond that the two shared was refreshing to watch. Ashwani put up a brave front by walking out of the show with ladylove Sanjana, choosing love over the game. The cherry on the cake was the steamy kiss the two shared on-screen! We wish the love birds all the best for the future.
Scarlett's here to stay
After witnessing the exit of her lover Ashwani with Sanjana, a heartbroken Scarlett was seen declaring that she would quit the sow as well. Things however took a turn when the hottie was propelled to stay back in the villa, courtesy her peers. Scarlett finally chose to stay back and continue in the tricky game of love. Go get that throne Scarett!
The bad
Mayank Pawar ko gussa kyun aata hai?
Former Mr India Mayank Pawar has given us a reason to not sing praises for him this time around. No violence is a strict policy in Splitsvilla but looks like this lad didn't wish to adhere to the rules. Amidst the dumping ground, Mayank was seen getting into a physical brawl with king Shravan who chose to dump his ladylove Pooja. This in turn visibly upset our gorgeous MTV Splitsvilla host Sunny Leone alongside Nikhil Chinapa, who ultimately brought the situation under control. Take a chill pill Mayank!
Munni badnaam hui, Shravan tere liye
King Shravan was seen assigning a task to Jacqueline, which involved her showcasing her latkas and jhatkas to a popular item song. Jacqueline was seen doing the same to Munni Badnaam. Though she brought it on gave it her best, it was disheartening to see her friends Heena and Purva making fun of her weight issues. Purva on the other hand was unimpressive with her failed attempt at wooing Shravan. Heena was seen getting eliminated from the show. We wonder who will e next.Any thoughts
So what did you think of tonight's episode? Post your comments below!