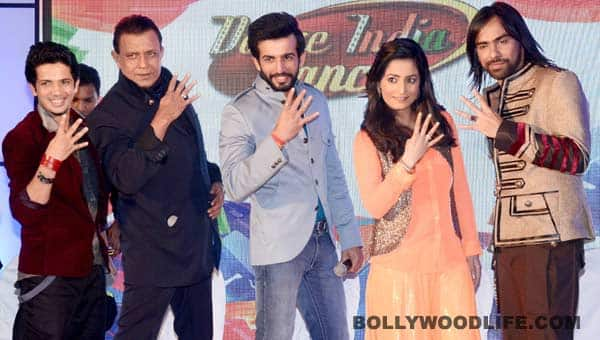 The fourth season of Dance India Dance will begin from October 26. We caught up with the three new judges of the show – Muddasar Khan, Shruti Merchant and Feroz Khan – and here is what they had to say…
The show that brought many dance forms such as locking and popping, slow motion, hip-hop, contemporary and many others into the Indian limelight is back with a bang. Yes, we are talking about the most popular dance reality show on Indian TV, Zee TV's Dance India Dance (DID). The contest is back with its fourth season and will start from October 26.
As we told you already the new season of DID will see a new and younger trio of judges. While Remo D'Souza, Geeta Kapur and Terence Lewis – the former judges – will still be associated with the show, Season 4 will see three new experts taking the chairs. Muddasar Khan (the man behind some of Salman Khan's popular moves in chartbusters from films like Ready, Dabangg 2 and Bodyguard), Shruti Merchant (sister and assistant of Vaibhavi Merchant, and choreographer in films like Dhoom, Rab Ne Bana De Jodi, Kal Ho Naa Ho and Devdas) and Feroz Khan (Farah Khan's assistant, who has smash hits like Maa daa laadla from Dostana and Move your body from Johnny Gaddar to his credit) will lend a new dimension to DID.
We caught up with the three new masters of the reality show to get chatty….
How did DID happen to the three of you?
Feroz Khan – To be honest, DID just happened to me. I was very busy doing Bollywood films. One day I just got a call from Essel Vision (production house) saying that they wanted to meet me for a reality show. They didn't give details on the phone. It was very secret. I went to the office and had a long chat with them. They actually did a lot of homework. They knew everything about my background. We had a long discussion and then they told me that it was for a dance reality show and they would call me for a screen test. So later I did that and then they told me it was for DID and that's how it all happened.
Muddasar Khan – I was in Kolkata when I got a call from the production house. I immediately took a flight and came to Mumbai. First they told me that they wanted me to be the judge for DID Super Moms, but I refused because it would have been very awkward for me to judge moms. Then they told me, if not Super Moms, they would like to have me as a judge on DID Season 4 and I immediately said yes.
Shruti Merchant – I was travelling too when I got a call from the producers. Like Feroz, they had done background research on me. They told me that they would do a screen test. After a couple of days, I did the screen test and I was in.
All three of you have worked in Bollywood films. How do your mentors feel, seeing you on the judges panel of DID?
Muddasar – After everything was confirmed, I went to Salman (Khan) bhai's house and told him that I am doing DID. He was really happy. I don't know why, but I was actually very scared to tell him; but when I got a good reaction from him, I breathed a sigh of relief. I mean, a man like him who has changed my life is telling me 'All the best', then it's a big thing!
Feroz – Farah maa was super duper excited. She was the first person I called after I got a call from the production house. Truly, she was really very happy. Whatever I am here today is because of one lady in my life – after my mother and father is Farah maa. I started as a background dancer with Ahmed (Khan) for few months and then I joined Farah maa as a background dancer again. After a few years, I became assistant choreographer and now I am here doing DID.
Shruti – I told Vaibhavi (Merchant) di about DID and she just told me one thing. She told me that the DID chair will take you to new heights. She was really very happy for me. I have learned a lot from my sister and I won't let her down.
So what will the judging criteria be this time?
Shruti – The format has not changed. We are going to judge people on their versatility, the kind of effort and style they put in and of course, their hard work.
What are the new forms that we will see in DID this time?
Muddasar – Before we started the auditions, all three of us attended a number of workshops, where we learned the minutest details of each and every dance form. We even learned dances from African jungles, which have never been shown on Indian television. So you will see a lot of dance forms in the fourth season of DID.
Spectators will always compare you with the previous judges. Will you feel bad, or proud and happy?
Feroz – It will be a good thing. I personally will feel very lucky that I am being compared to Remo sir, Terence sir and Geeta maa, considering that they are big names in the industry now. I'll be very proud and happy.
Muddasar – I completely agree with Feroz. The previous judges have acquired a name in the industry, so there is nothing wrong when people compare us with them.
Shruti – We all knew that we would be compared to the previous judges when we came on board. In fact, a lot of people have told us that there are a lot of similarities between us and Remo sir, Terence sir and Geeta maa.
Did you interact with Remo, Terence and Geeta?
Shruti – Well, actually, we didn't!
Feroz – I spoke to only one person and that is Geeta maa, because she is family to me. After calling Farah maa, I called her and told about DID 4. She was choreographing the acts at SAIFTA Awards in South Africa and she was really excited. She told me that she already knew that I was being roped in for DID. Obviously, because she is a part of DID family, aur family mein kuch baat chhupti nahi hai!