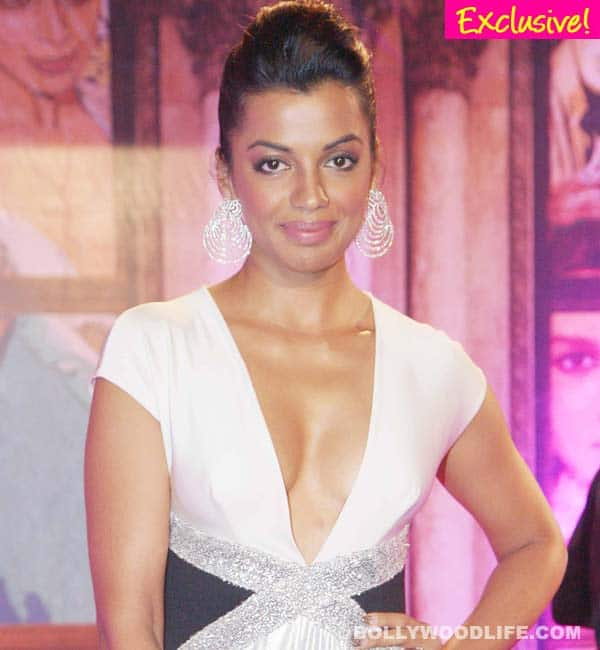 The All The Best actor got eliminated recently from the fifth installment of the Indian version of Fear Factor. In an exclusive interview she chats with us about life during the show and after it…
After Pooja Gaur and Rochelle Maria Rao, Mugdha Godse becomes the third contestant who bid adieu to the adrenaline pumping, fear thumping show—Khatron Ke Khiladi 5. The Fashion babe spoke to us in a candid chat about all that happened during the show and how her equation with the other contestants was. Excerpts from the tete-a-tete…
How was your experience in the show?
The experience was fantastic and I am very sad that I got eliminated so early. More than the game, it's your luck. And it all depends on how you perform on that particular day. If your luck's good, you stay else you go home and that's exactly what happened to me.
Which stunt do you think was the toughest one for you?
The stunt in which I got eliminated was not very tough. It was just a bit of confusion with the keys that I had, and I wasted a lot of time in that. It wasn't a tough task but it was a lot of mismanagement from my side. The toughest task was definitely the crocodile task, where I was very scared and I was crying and howling all through. It was definitely the toughest task for me.
It's surprising to hear Pooja say that I was the weakest contestant. You can't point out onto anyone as the weak link or the weak contestant, as everyone is pretty competing. Also, it depends a lot on your luck on that particular day. Nobody according to me is weak. Everyone is strong and that's why we are here. It is just that someone's luck favours someday and someone luck doesn't on other days.
At least you must have a strong competitor or someone whom you considered as the strongest contestant?
No. Just like you can't point out any weak contestant, you can't also point out any strong contestant. There were people who were scoring well and performing better, so you may call them strong, but everyday is a new day. Everyday there is a new stunt and that seals your fate for the day.
How was Rohit Shetty as a host?
He is fantastic, because first of all he is a director. He, therefore, takes care of the loose ends of the show. If the show is lacking something he would fill in that. For all of us, he was someone who used to pump up our confidence whenever we were lacking it. He used to boost our morale and tell us constantly that "don't be scared, you can do it." He used to treat us like his actors and make sure that we finish the task as well. I have previously worked with him as a director and working with him as a host was equally fantastic. He is doing a fantastic job of hosting the show.
South Africa is very beautiful location. So how was your experience there? What all did you do when you first reached there?
We did not think about anything else when we reached there, because the Khatron Ke Khiladi people never allowed us to party. We were constantly scared and kept in the apprehension as to what would be the tasks and all. We were pretty scared in that way, and thus we didn't explore the city on ourselves that much. But the task locations were really exotic and we loved all of them. Also, once I got eliminated I took some time off and traveled a bit and saw the country. That was a really good experience.
Were your family and friends relieved when you were back home?
My parents were relieved that I was back home all in one piece and nothing bad had happened. But they were more relieved now that they are seeing the show and they feel amazed as to how I performed such tasks. They couldn't believe that i did all those tasks and went up to that level. They were also very proud of me. After seeing my confidence, my parents and friends were like "you should have stayed some more."
What future projects are you working on?
I have just finished a film called No Rules For Fools and there are couple more projects in the pipeline for which I will start shooting now.