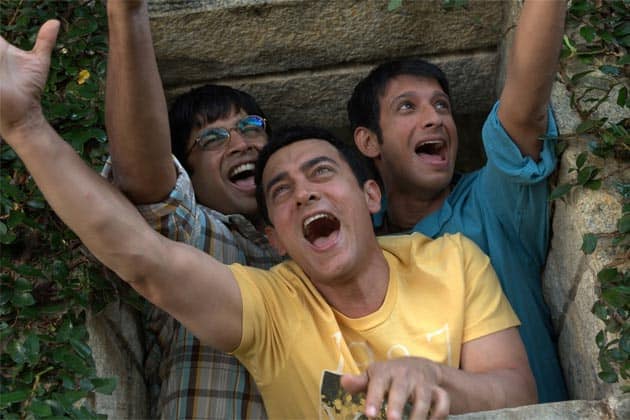 After 3 Idiots, Don 2, Ek Tha Tiger and Jab Tak Hai Jaan, the number of Bollywood films releasing in Japan is all set to double, says producer Akifumi Sugihara at the Mumbai Film Mart. He also adds that India and Japan together could form a new entertainment market. Excerpts from an interview
Aamir Khan-starrer 3 Idiots not just gave the US$2 billion Indian film industry a "foothold" in Japan but also opened up viewers to a "comparatively traditional" affair like Shahrukh Khan's Jab Tak Hai Jaan, says Akifumi Sugihara of Japan's 101-year-old production studio. The number of releases will soon double, he predicts.
Sugihara, executive vice president (International Operation Department) of Japan's oldest film production and distribution firm Nikkatsu Corporation, first came to India in 2011 to attend the Mumbai Film Mart, an annual business-to-business platform at the Mumbai Film Festival.
Since then, his company has released four Indian films in Japan – 3 Idiots, which is still showing, Don 2, Ek Tha Tiger and Jab Tak Hai Jaan. This month he will be busy releasing Makkhi in his country. In an interview, Sugihari talked about the market of Indian films in Japan and how increased co-productions between the two countries can provide "a big stimulus for Asia to form a new highly potential entertainment market".
What attracted you to the Mumbai Film Mart (MFM)?
There were some souls I know well in the Japan film industry who repeatedly said good things about Bollywood films and the industry. At the same time, I happened to know that Reliance Entertainment was influencing Hollywood in a substantial degree. Also, many Hollywood actors said they would like to appear in Bollywood films. These news about India and Bollywood encouraged me a lot to attend the MFM two years ago (at the 13th Mumbai Film Festival).
What is the level of interest in Indian cinema in Japan?
I feel 3 Idiots made a kind of foothold for Indian films in the Japan market. I think the number of Indian films, which are (currently) being released in Japan, will be more than doubled immediately. What we will have to do as a distributor is to see how we can keep the trend growing.
You bought three films – 3 Idiots, Don 2 and Ek Tha Tiger. Did you recover the cost and earn profit?
Actually, I bought four movies! In addition to what you said, Jab Tak Hai Jaan as well. We could manage to recoup the marketing expenditures for all those movies. 3 Idiots turned out to be a superhit.
All the chosen movies were hardcore commercial films. India is currently witnessing a new wave of cinema in terms of scripts and screenplay. Is that attracting Japanese viewers?
That new wave or new trend actually motivated me to get involved more deeply in Indian movies. That must have affected lots of Japanese audiences as well. Those audiences, who were motivated by the new wave movies, found fresh interest in a comparatively traditional type of movie like Jab Tak Hai Jaan too.
What sort of movies do Japanese viewers want to see?
There seems to be a polarisation in the audience's tastes – tremendously energetic action-oriented movies or mentally healing, heart-moving movies with a message.
Indian films are seen as a viable medium for foreign countries to promote tourism, and India and Japan have recently signed a deal to get into co-productions and for exchange of technical expertise. How do you think it will benefit the film industry and tourism in both the countries?
Although Japan and India seem to be close to each other spiritually, they know little about each other. Through movies, people in both the countries will get to know each other much better and hopefully, people in both the countries will share common entertainment interests through co-productions. That will prove to be a big stimulus for Asia to form a new highly potential entertainment market.
What are the facilities available for Indian filmmakers to shoot in your country?
That is the biggest problem we will have to deal with and resolve. We will need our government's help.
Are Japanese filmmakers interested in collaborating with Indian filmmakers and shooting in India?
A great deal!