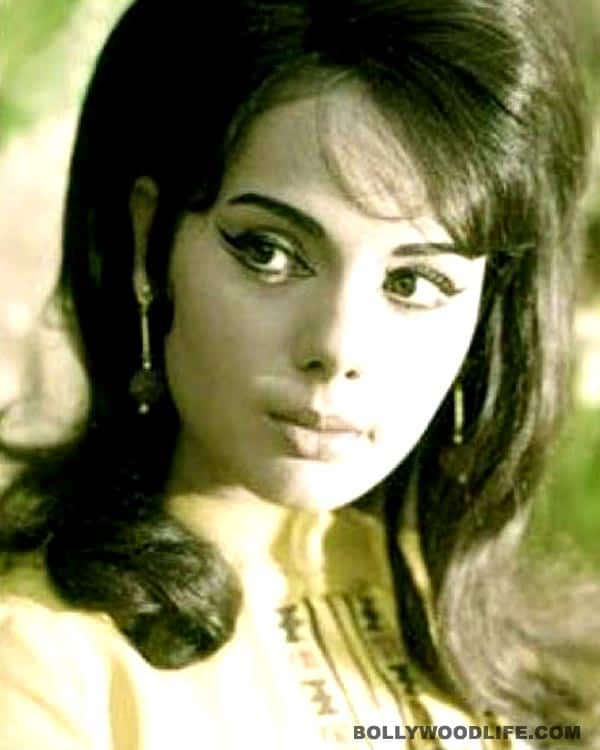 Yesteryear's star Mumtaz started her career as a supporting actor, it was LV Prasad who elevated her to the rank of the main lead. But her journey was not easy as initially many lead actors refused to pair up with her.
Khilona was the turning point in Mumtaz's career, and in the same year she featured in V Shantaram's Boond Jo Ban Gayi Moti with Jeetendra who refused to work with her.
Excerpts from the interview:
Do you recall bad experiences on your way to stardom?
Nothing like that. There were no cheap passes made. It all depends on how one conducts oneself. I firmly believe, if you're hard-working and good-looking nobody except God can stop you. Our film industry does give chances to new talent. But the newcomer has to be worth it, no? Those who talk about being forced to compromise must be lacking in talent and looks. They want to become overnight stars.
As for men taking advantage of strugglers, why blame only the entertainment industry? It happens in all work places. Sexual dynamics are tapped in every profession for a raise, for a promotion, whatever. Please don't point fingers at the film industry. And look at the kind of remuneration that are given to actors. You really have to be worth it to command that kind of fees.
Which are your favourite roles and films?
Khilona, Tere Mere Sapne, Aaina, Aap Ki Kasam, Jheel Ke Us Paar – there were so many other hits. But I wouldn't call them memorable films or roles. Khilona was a turning point for me. Producer LV Prasadji had the guts to sign a side actress like me in the author-backed part. It broke my glamorous tomboyish image. Do you know, Seeta Aur Geeta was offered to me? But they offered me a very small remuneration, so I said no.
Do you regret losing it?
No, why should I? Because it was a hit? But I gave so many hits. Hemaji got her first Filmfare Award for Seeta Aur Geeta. 'Mujhe pehle mil chuka tha' for Khilona.
What about V Shantaram who cast you as a leading lady for the first time in Boond Jo Ban Gayi Moti?
I was doing Khilona and Boond Jo Ban Gayi Moti at the same time. I was signed for a guest appearance to do a song. I had done bit roles in Shantaramji's Stree and Sehra. I couldn't say no to him. So I agreed to do a song in Boond Jo Ban Gayi Moti. Then his daughter Rajshree, who was playing the lead in the film, decided she didn't want to work. So Shantaramji decided to cast me as the leading lady in Boond Jo Ban Gayi Moti. But the film's leading man Jeetendra refused to work with me.
What are you saying! Jeetendra and you became such good friends?
Ya, he said, 'Mumtaz ke saath main kaam nahin karunga'. Shantaramji put his foot down. He told Jeetu, 'If you don't want to work with her, you leave the film. I'll take another hero.' But Jeetuji finally relented. I held no grudges against Jeetuji because in those days many big heroes refused to work with me.
Even Dev Anand?
No, he never refused. I got the chance to work with him in Tere Mere Sapne. If he said no to any film with me, I am not aware.
Jeetendra and you did so many films subsequently?
Yes, but our 'jodi' did not become as successful as Rajesh Khanna and I. My films with Jeetu didn't click.
It's the chemistry?
It's fate and destiny. It's up to the audience to take an actor to the skies or drop him or her to the ground. Either they love you or hate you.
You left the film industry so long ago….
Forty years ago I left. I did make a comeback in 1990 with Aandhiyaan. When that flopped, my heart broke. I did get offers after that. But I decided against doing any more films. There's too much politics in the film industry. I live in London. Working in Mumbai would have been impractical. It meant too much stress. I didn't need it.
Any role recently that you felt you should have done?
I liked Hemaji's role in Baghban. But I don't like any other films that she has done lately.
But to see you play an aged woman of grownup children would be unacceptable?
That's one of the reasons why my comeback film Aandhiyaan failed. People wanted to know why I was playing mother to an 18-year old. I was a trendy mom in jeans. I dressed in the film how the heroine dressed in the original Pakistani film. Director David Dhawan wanted me to dress and behave exactly the way it was in the original. It didn't go down well with the audience.
You were raised by your mother, right? Was your father ever around?

My parents divorced very young. My mother took both me and my sister, Malka when she left my father. My father said he wouldn't give her any money. He gave her both the daughters instead. Of course. People believed I was fatherless because Devyani Chaubal wrote, 'Mumtaz has got no father'. I took her to court. My father, who lived in Hyderabad, promised to come to court to prove her wrong. He said, 'Hum ayega court mein'.
And did he?
No, the magazine and Devyani apologised publicly. I forgave them. If someone wrongs me and realises it, I am ready to forgive. But I will never tolerate nonsense.
I was actually raised by my grandmother, mother and my aunt. Like Three Men & A Baby, in my life there were three women and a baby. It was a wonderful childhood. We were a typical Irani family. My mother was divorced when she was only 16. Then my mother re-married. She had two sons. One of them died. But I've a stepbrother named Shah Rukh Askari in Mumbai.
Then there is the other Shahrukh who is your fan.
You mean Shahrukh Khan? Yes I heard. That's very sweet of him.
Who is not your fan?
Oh there must be many. I've been lucky. I started my career on the wrong note as a supporting actress. In spite of that I became one of the top-most heroines at the age of 18. That shows how much people loved me. I'd be appreciated even when I was not the heroine. My fans were with me. I married at 26 and left India.