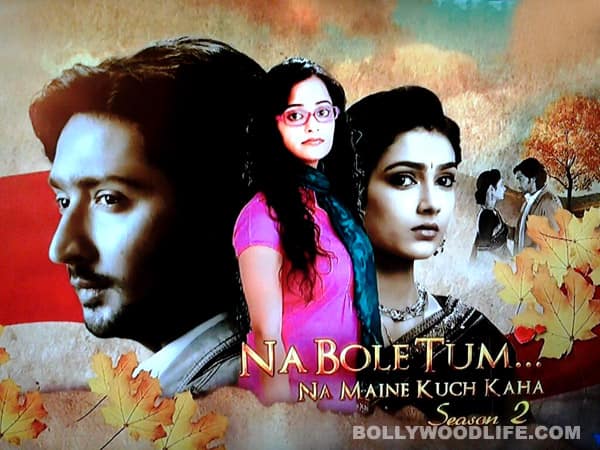 Mohan and Megha's love story continues…
We caught the first episode of Na Bole Tum Na Maine Kuchh Kaha's Season 2 last night and the show doesn't entirely disappoint, minus a few glitches here and there.
The last season of Na Bole Tum Na Maine Kuchh Kaha ended with Mohan (Kunal Karan Kapoor) and Megha (Akansha Singh) madly in love and getting married against all odds. 12 years later, what changed their equation, love for each other and the marital status form the crux of Season 2.
Nanhi aka Navika (Jayashree Venketaramanan) is grown up and works as a reporter for the TV channel Parda Faash – the name couldn't get any cheesier than this. She's seems to be following in Mohan's footsteps, but the innocent, cute natured and loving kid has now evolved into a tomboyish, brash and in-your-face kinda girl. Well, something had to change. Considering that even after 12 years, Mohan looks like a teenage boy (the spectacles really doesn't add any maturity to the look) and Megha looks younger, but beautiful than ever. Come on, bringing up teenagers is no easy task, our parents got grey hair by the time we crossed 18, so why didn't Megha? Whatever!
Megha now runs a dance school (we believe she is back living with her former in-laws), while Mohan is some big-shot business tycoon as he's abandoned his bike and now commutes in an expensive car. He runs the Nam Foundation which owns the TV channel Nanhi works for. Of course, they don't know about it yet.
Nanhi hates Spiderman (Mohan) 'coz he abandoned Megha for reasons we are yet to discover. On the other hand, Mohan now has a young daughter – how and where from is a still a big mystery. Mohan and Megha still love each other, but guess the equation changed due to some unknown circumstances. We just hope their reasons are good enough to base an entire new season on it.
Megha's son Addu and her former father and mother-in law are yet to surface in the show. Na Bole Tum Na Maine Kuchh Kaha 2 has retained the selfish sister-in-law (Rinku Karmakar) and the supportive Jiji (Madhuri Sanjeev). And their characters have not changed or grown older in these 12 years either.
The show has managed to invoke curiosity which we believe the makers will cash in for at least two-three weeks. Mohan and Megha's chemistry continues to have that flavour which will make people go awwww… Amongst the last season's actors, child artist Ashnoor Kaur will be missed. Jayashree who now plays the elder version of Nanhi is charming, but will it make people forget the little girl is something we have to wait and watch.
All in all, the show has started on an interesting note. We are definitely eager to know more…
Catch the next episode of Na Bole Tum Na Maine Kuch Kaha 2 on Colors at 9:30pm Monday-Friday
MORE TV REVIEWS
Sanskaar – Dharohar Apno Ki : TV review
Tota Weds Maina and Hum Aapke Hain In-Laws : TV review
Rating:
out of 5
Reviewed by Letty Mariam Abraham
* Poor
** Average
*** Good
**** Very good
***** Excellent