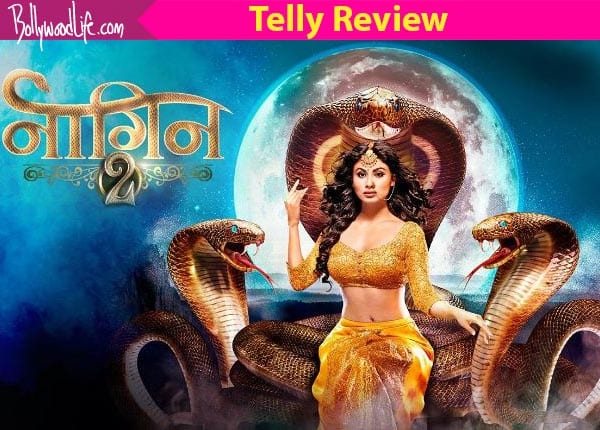 Shivangi reaches at the cave with Guruji and they see Rudra's body floating in the air. Guruji realises that Avantika and her team has purposely kept Rudra's body like that so that Shivangi gets trapped. Shivangi wants to get Rudra's body at any cost. Guruji then blows powder and Avantika and her team gets blind for some time. Shivangi immediately becomes naagin and takes Rudra's body and escapes from there. Then the powder clears and Yamini shouts that Rudra's partner escaped with his dead body. Shivangi and Guruji perform Rudra's last rites. They pray to Shiv ji and ganga jal from Shivji's head falls on Rudra's body which has now turned into ash. After its all done, Shivangi says she has to go because everyone must be waiting for her.
When she reaches home, Rocky hugs her and asks her where she was all this while. She says she was in Neeti chachi's room. He says he didn't check that room. Shivangi realises that the hypnotic poison worked for two hours. Rocky tells her that he went to the haveli looking for her and saw how Rudra's body was floating in the air in tornado. He also mentioned the trunk in which he found the stairs. She wonders if its the same trunk. He also tells her that he sprained his hand so she forcefully applies medicine and asks him to rest.
When Shivangi goes to the kitchen she sees Neeti with Mansi. she takes Neeti aside and tells her how Avantika killed Rudra and that Rocky knows about the trunk and he wants to find out the truth behind it. Avantika, Yamini and Sesha argue over Rudra's body. Avantika says that without nag, his partner's powers are now half. Sesha says that even half powers are enough to kill them all. They then head home where Aaliya, Sushanth, Toubel and everyone else wishes Sesha on her birthday. Aaliya says they have a surprise in store for her. They say they have planned the surprise at the haveli. Shivangi says Rocky has made the arrangements himself. When Rocky comes, Sesha hugs him and thanks him for that and he wonders what's happening. He says he didn't arrange the party and Sesha thinks he wants to give her a surprise. They go to the haveli. Once they reach, Sesha dances with Rocky on music and when he tries to leave, she gets him occupied. Neeti seems him and tells him that badi ma is searching for him. He leaves.
Shivangi reaches the trunk and takes the stairs. She sees honey everywhere and then sees honeycomb and bees around it. She freezes them for some time and walks further. Then she sees a man tied to a chair. His name is Sishupal. Without even seeing her , the man shouts, "Avantika go.. I dont want to tell your death secret." Avantika hears his voice and comes to the room realising someone had been there. She asks him but he doesn't reply. She reveals that he is her husband and leaves the room. Shivangi then comes out of Shishupal and frees him and says that she knows he is Avantika's husband. He screams saying that he knows Avantika sent her to know her death secret. She denies but he strangulates her and throws her in air. (ALSO READ: Naagin 2 18 March 2017 Written Update Full Episode: Avantika KILLS Rudra; now what will Shivangi do?)
Rocky goes towards Yamini when Ruchika stops her and cuts the cake with him. He opens a bottle of champagne and offers her. She takes the whole bottle. Yamini yells at Sesha for doing so and warns her to not drink so much.
Back in the haveli, it starts shaking like there's an earthquake. Avantika realises that something is majorly wrong. She tries to go to the room but Neeti stops her. Rocky takes everyone out and finds Shivangi missing. Avni says she must be still in the room. He foes to the room and finds the trunk open wondering if she has gone inside. Sesha follows him and thinks he cannot escape her love today. Shishupal hurts Shivangi again. She asks him whether he wants to know who she is. She then turns into a snake and says that she is naagin.