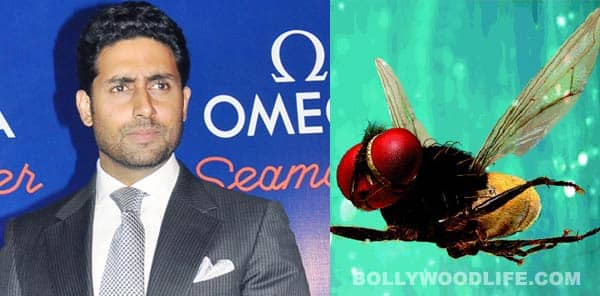 The actor has denied reports that he will star in the Hindi remake of the Tamil film Naan Ee
Li'l flies have been bzzzing about Abhishek Bachchan playing the lead in the Bollywood remake of the Tamil-Telugu bilingual film Naan Ee/Eega. Why not? The film is a blockbuster hit in India and abroad, even beating Ajith Kumar's Billa 2 at the box office. And remaking South films is a happening trend today. But now we hear that Junior Bachchan won't be doing any such remake. Sigh.
What's interesting about the whole report is the title for the remake. 'Naan ee' means 'I am a fly' in Tamil, just like 'Eega' means 'Fly' in Telugu. What would the film be called in Hindi? We initially thought the makers would go with the literal translation of the Tamil title and call it 'Main Makkhi Hoon'. (Doesn't that sound a lot like Amitabh Bachchan's movie Main Azaad Hoon?) However, the makers have decided to go with a literal translation of Eega instead – the film will be called Makkhi. Ha! We can't stop giggling at that!
We wonder though, will they also literally translate Eega's dialogues? We tried one line and had to stop when it sent us into hysterical chortles once again!
Blank message ante blank cheque antha powerful…Akkada entha amount kavalante antha veskovacchu ikkada emaina oohinchukovachu.
Blank message means blank cheque it's that powerful .. In that whatever amount you want, that much you can add, here you can think anything.