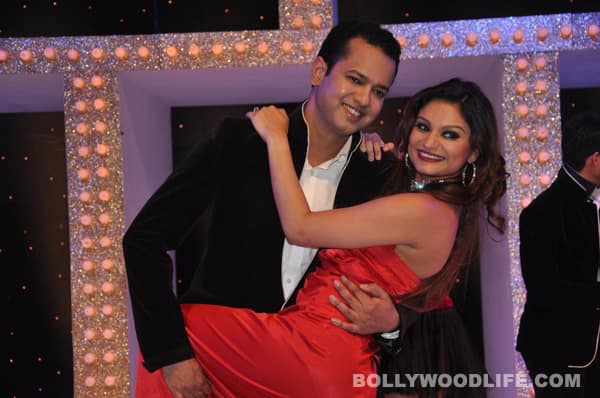 Shilpa Shetty is fun, Sajid Khan leaves you in splits and Terence Lewis is the humble one
Nach Baliye 5 kick-started with a bang, as hosts Karan Wahi and Gautam Rode welcomed the judges with fancy introductions and showered them with an array of compliments. There are 11 couples on the show and each one of them is a known face on television. We like the dancing, we like Shilpa Shetty giggling after virtually every sentence, Sajid Khan's cheeky remarks are superb and Terence Lewis' high-funda gyaan on dance is also cool. But what we don't like is the intermittent melodrama.
Why can't it be a plain, no-frills show purely based on dance, which portrays the chemistry between the couples and in return give their fans a chance to know more about these celebs? Why does there have to be unnecessary rona-dhona and couples getting super mushy for taking the TRPs a notch higher? Everything looks so familiar after a while 'coz almost every other show on the idiot box follows the same formula these days – going overboard with the whole 'emotional drama' thing. Case in point: Ankush Mohla going gaga over his wife and labeling her as the ultimate superwoman and Smita Bansal crying at the drop of a hat, Jay Bhanushali raving about how Mahi Vij is the perfect wife and she instantly bursting into tears et al. We want to see energetic dancers who are trying to compete with each other despite not being natural leg shakers, and not pairs in a mutual admiration club.
Talking about dance, Shefali Zariwala seems awfully serious about the competition. She's trying new things, not necessarily excelling in them, but at least trying. Her Lindy Hop act on the pacey Dreamum wakepum was fun to watch even though she failed to impress the judges. Jay and Mahi are a fun-loving pair and the excitement is so visible in their performances. Suhasi Goradia and Jaisheel Dhami are amazingly cute. As Sajid rightly said, despite being an IT engineer, Jaisheel is killing it on the NB  floor, and we couldn't agree with him more. Neelu Vaghela and Arvind Kumar are the most energetic couple despite being the oldest pair in the competition and that's truly inspiring. Rahul Mahajan and Dimpy Mahajan are a full-on entertaining package – we loved their spirit as Dimpy dressed as an auto-driver and Rahul as a sexy chamiya and the two grooved to Fevicol se. Kushal Tandon and Elena may be good dancers and have the x-factor, but something still seems amiss – maybe the attitude that's required to create the much needed magic on the dance floor. Amarjeet Singh and Charlie Chauhan remind us of high-school sweethearts, they are the bachchas on the show who don't just dance well but are also are the judges' cutie pies 'coz they are very young.
Ravi Dubey and Sargun Mehta talk to the point of irritation. And one revelation: Sargun is an absolute spoil sport. What's there to cry just 'coz Sajid thought their performance wasn't creative enough? Anyways, despite the loopholes, NB 5 has managed to garner decent TRPs – 4.1 in its first episode and 4.3 in the second. All in all, a decent show, and only if they had cut down on the emotional nonsense, we would have given it a thumbs-up without much reluctance.
Catch Nach Baliye 5 on Star Plus: Sat-Sun, 9pm
Rating:
out of 5
Reviewed by Deboshree Ghosh
* Poor
** Average
*** Good
**** Very good
***** Excellent