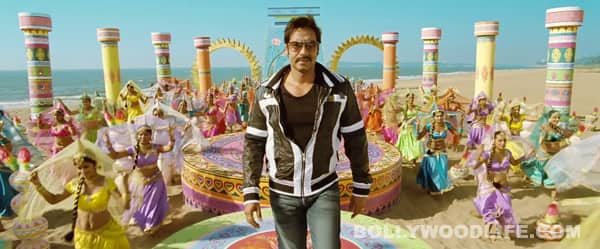 During his recent visit, the Himmatwala actor couldn't stop gushing about how 'gooood' this celebrity dance reality show is. But is that the only reason he wants to book his seat for the final episode?
On the weekend that just went by, we saw a very entertaining episode of Nach Baliye 5, with Ajay Devgn, Akshay Kumar and Kajal Aggarwal dropping in to promote their movies – Himmatwala and Special 26, respectively. And while Akki and Kajal did a pretty good job of feeding funny one-liners,  we particularly enjoyed the task given to the contestants by Ajay – to lift their baliyes while doing push-ups. Very funny, wasn't it?
But hilarious tasks and melodious songs (sung by Akki!) apart, certain words from the entire evening kept echoing in our minds. And that's Ajay's promise to be back for the finale. "I want to be back for the finale of Nach Baliye 5," he kept repeating like some jap mantra.
Why? Now if we remember correctly, Ajay's reason had something to be with the good quality of the contestants and a compliment about NB's kick-ass entertainment quotient. But is that it, really? We doubt.
Our in-house Sherlock Holmes pointed a shapely finger at how the roughly calculated date of Nach Baliye's finale seems to be falling a tad close to the release date – March 29 – of Himmatwala. So…errrm…get the point? Moreover, for Sajid Khan, the director of the movie and a judge on Nach Baliye 5, bringing Ajay back for the finale to promote Himmatwala again would be the easiest thing to do, no?
So, no offence to the quality of contestants or the entertainment quotient of the show, but looks like Ajay has a perfect reason – sadly, other than the one he disclosed – for coming back. Right?
But that's what we think about why Ajay Devgn is so hell bent on returning to Nach Baliye 5 during the finale. If you have a better reason, tell us, quick!