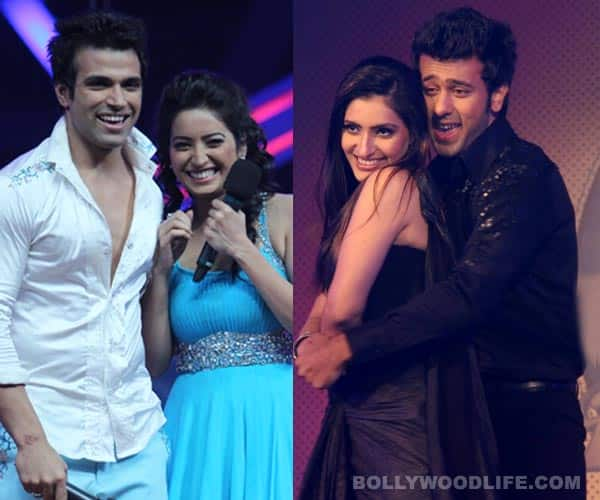 Chemistry, physics and mathematics between a couple doesn't happen because they will it or 'coz their choreographer demands it – it either exists or doesn't…
The main theme of Nach Baliye 6 is passion. All the participating couples are redefining their relationships and honing their acting skills to bring that to the stage. Watching their performances over the past two weeks, we've noted that some can easily set the stage on fire while others are trying hard, but not hard enough. Lata Sabharwal and Sanjeev Seth, for instance, may be deeply in love, but their inhibited soap opera characters seemed to have coloured their dance in the show and they were eliminated over the weekend. For the rest, we devised a passion-metre to rate the level of their intensity. Mind you, we are not saying that any couple is bad or not good enough; we are simply giving you our take on their passion quotient on stage. Let us know if you agree…
Riddhi Dogra & Raqesh Vashisth: There's no doubt that they are sizzling together. There is no doubt that the couple is trying to shed their fears and give their best on stage. There is no doubt they look hot and passionate, even with the little dancing they can do. We have great expectations from them.
Passion-meter – 8/10
Bruna Abdullah & Omar Farooque: We kept thinking that it was all fake between them… until their last performance. But we've learned our lesson. Bruna is bold and wouldn't think twice before showing it onscreen, but the same cannot be said about her beloved. Wethinks the day Omar lets go of his inhibitions, the two will set the stage on fire. But will they last that long?
Passion-meter: 6.5/10
Shikha Raju & Raju Srivastav: This couple is the older generation in love. There seems to be a lot that the two wish to express; while Raju puts his best foot forward, Shikha seems a little shy. However, it's adorable to see them romance shyly and ignite small flames of passion. The couple has pushed their envelope a lot further than we expected. Kudos!
Passion-meter: 6/10
Shivangi Verma & Ripudaman Handa: They've got the chemistry and the physics all figured out. Frankly, we never expected them to do so well. He is a chef and his skills are best shown in the kitchen, but looks like you cannot confine Ripu in the kitchen any more. He and Shivangi have truly surprised us and we are pleasantly pleased. Fingers crossed!
Passion-meter: 10/10
Asha Negi & Rithvik Dhanjani: You will not find anyone who dislikes this couple. Their innocence and simplicity pull at your heartstrings. We know that Rithvik is a great dancer and Asha is just proving herself. The newly dating couple has a lot to learn when it comes to true passion. That's something that comes with time. Their cuteness works in their favour and we hope in time they are able to build the fire.
Passion-meter: 7/10
Amrapali Gupta & Yash Sinha: They are totally into each other and are often at loss of words when it comes to expressing their feelings. The couple has just started sizzling onscreen, so much so that the judges were take aback with their performance and so were we. Don't you agree?
Passion-meter: 8/10
Raksha Thakur & Vinod Thakur: The spirit of dancing and the passion to prove oneself is very evident in the duo. However, we are talking about the chemistry and passion between the couple; if Raksha and Vinod concentrated just a tad more on that rather than on speed and technique, they could create magic.
Passion-meter: 6/10
Debina Bonnerjee & Gurmeet Choudhary: We really don't have to say much about this jodi. Debina and Gurmeet are on a whole new level when it comes to passion and dancing. So much so that when they dance, you can feel the heat in your living room.
Passion-meter: 10/10
Kanika Maheshwari & Ankur Ghai: The couple has been together for long and somehow the chemistry between them just doesn't seem enough. Guess they need to rejuvenate their feelings and reignite some passion between them, 'coz we expect a little more, especially since they are not-bad dancers.
Passion-meter: 4/10
Priyanka Sharda & Kiku Sharda: They are funny as a couple of kittens playing and somehow that works brilliantly in their favour. But will comedy alone do the trick for them? Sooner rather than later, the couple will have to do a passionate number to show that love is not always just about laughter. We believe they will be able to pull it off, considering their equation is simply great onscreen.
Passion-meter-5/10