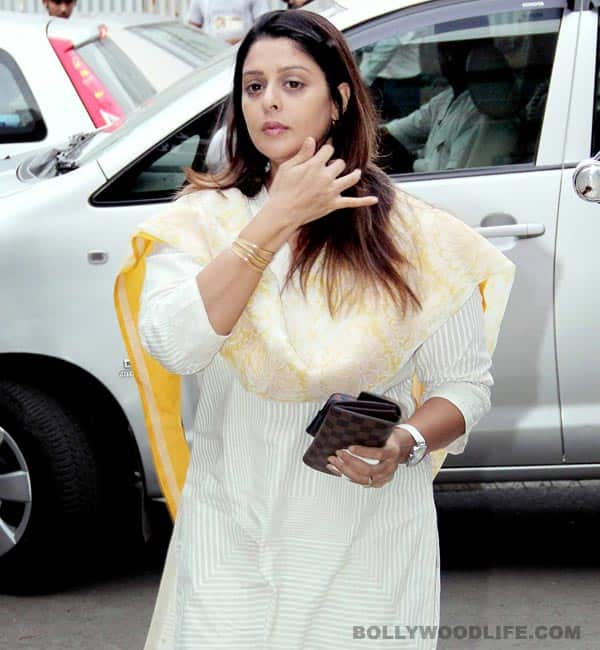 This actor turned politician is ready to contest the Lok Sabha elections 2014 on a Congress ticket from Meerut, however the recent events at rallies have left behind a bitter taste
Nagma was first grabbed and kissed forcefully by her own party member, Congress legislator Gajraj Singh and later at another rally in Meerut the 39-year-old actor was groped at a public meeting. An angry Nagma did not just slap the man, but also wowed to never ever return to Meerut if she was subjected to any further harassment during the election campaigns. Interestingly, Nagma's party has sought extra protection for the southern star during her rallies, while no action has been taken against miscreant Gajraj Singh as yet.  And now the actor too denies that she was groped or kissed during her outdoor visits for party's campaign.
Nagma was extremely upset when she was manhandled by a man in the crowd and footage of her slapping the troublemaker had gone viral. She had earlier threatened, "I may not return to Meerut if this happens again." However Congress' Meerut candidate has taken a complete U-turn and blatantly denied events that have been captured on the camera. In a television interview she said, " No one tried to kiss me, I didn't slap anyone either. Video doesn't show me slapping anyone, the person tried to come close to me, I just pushed him away. Wasn't an act of misbehaviour, he was trying to tell me something but due to noise, I couldn't hear him so he came closer."
An upset actor was seen pushing Gajraj Singh aside when he forcefully tried to kiss her on the cheek during a visit on March 22 this year, a few days later on March 28 a video of Nagma slapping a person in the crowd went viral. Both the footage contradict the latest statement issued by the actor to a leading news channel.
BollywoodLifers, here take a look at the videos and tell us if you think Nagma is hiding the truth? Is there pressure on Nagma to deny the truth to ensure a smooth sailing for Congress in the 2014 Lok Sabha elections?
Watch Nagma pushing Gajraj Singh video!

Watch Nagma slapping a youth at a rally in Meerut!