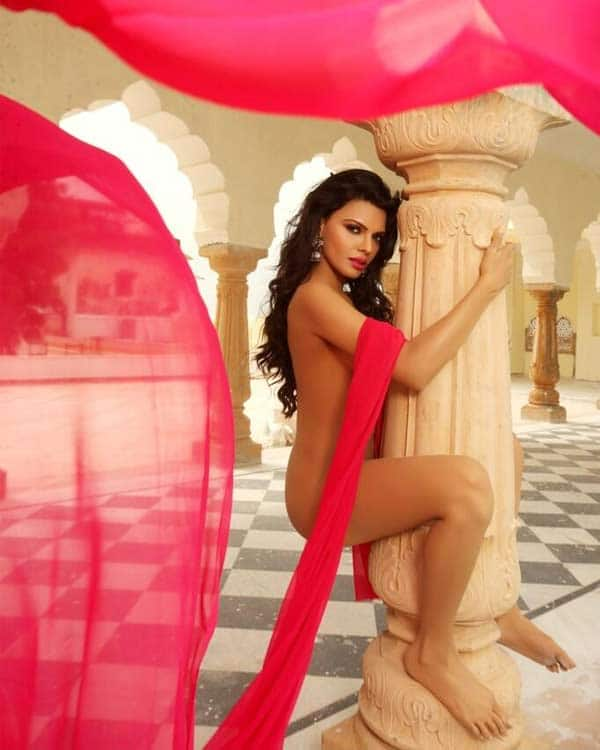 The Playboy gal wraps her legs around a giant pillar in a palace. Looks like Kamasutra is heavy on Sherlyn's mind these days….
Sherlyn Chopra is at it again. After riding a horse in her birthday suit the controversial Chopra now shows off her wild side by wrapping her legs around a pillar in a palace. With a pink dupatta swaying freely in the frame – matching the babe's shocking pink pout – and doing nothing to maintain her modesty, Sherlyn knows how to use props to reveal rather than conceal.
Clearly, she is deadly confident about her body. The seductress is all set to raise the mercury with her bold acts in the new movie Kamasutra 3D and going by this picture, you get a fair idea about what to expect from the erotic drama. "Sexuality is highly attractive when it is effortless and spontaneous," insists the desperate damsel.
But we must admit to one thing. Sherlyn has worked pretty hard on her hot-bod to make it that shapely, with a little help, of course. The 'enhanced' curves make her look like the ideal Playboy playmate. Except for the heavy body makeup and those silver jhumkas, Sherlyn wears absolutely nothing and covers her…errr… modesty with the pillar as she strikes a titillating pose.
It's obvious that she is working hard to move up the popularity charts. But we wonder, who has worked harder on this image -Sherlyn, the doctors or those behind the Photoshop palette?
ALSO READ: Is Sherlyn Chopra's Playboy cover leaked?