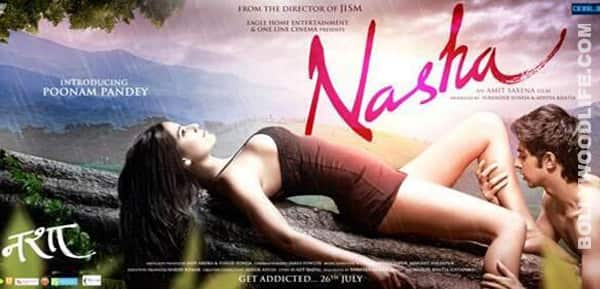 Touted as a slick erotic story of a teenage boy falling for a mature woman, director Amit Saxena's Nasha is flat, hollow and mind-numbingly boring
Poonam Pandey can do two things exceptionally well – create controversy and bask in their glory to enjoy the media glare for as long as it lasts. But much to our surprise, we discovered, the babe can dare to act too.
Known for opening her mouth wide only to make promises that will make headlines (remember her vow to strip to absolutely nothingness if Team India won the cricket World Cup?) and creating sensations by uploading provocative (read: tacky) pictures on a microblogging site, the Pandey gal has shown some determination to go beyond her usual 'body of work' in her debut movie, Nasha. But Amit Saxena's lazy direction and his inefficiency in utilising the 'resources' easily available to him could only damage brand Poonam Pandey rather than taking it a step ahead or converting morphing the publicity-hungry babe into a promising onscreen seductress.
We could have ignored Saxena's huge mistake of NOT tapping into Poonam's real 'potential', if only he had given us a truly engaging story in return. Alas, the director has failed on both counts and what you get is a film that leaves you searching for the exit door.
Sahil (Shivam) is your regular testosterone-charged teenager who loves to hang out with his gang and have fun with his girlfriend. Poonam (Anita) plays the newly appointed teacher in the school where Sahil studies. While Sahil's gang of boys are busy admiring Anita's well-endowed body, the young stud falls in love with the lady. He even starts developing a relationship with her. Soon Sahil is left heartbroken when he finds out that Anita has been in a relationship with Samuel for the past five years. What leads to this unexpected revelation is a series of emotional atyachaars Sahil goes through to learn to draw a definite line between lust and love. Will Sahil gain the love of his life if he expresses his true feelings for Anita? That is the basic plot of Nasha.
Interestingly – and ironically – the Shiv Sena burned posters of Nasha before its release, saying that the hoardings looked objectionable. If the politically charged Sainiks watched the film, they would realise that they have clearly wasted their time objecting to a movie that has absolutely nothing in it – not even a concrete plot! Even those who walk into the theatres with the sole purpose of feasting their eyes on tempting revelations that Poonam promised in the promos will have to be satisfied with a couple of passionate kissing sequences and a scene in which Poonam takes a walk in her chaddis. In fact, the boys in the movie have shown more skin than the desperate damsel.
Performance wise, Poonam has delivered a fine act for a debutante. With almost all her scenes shot with the intention of highlighting her heavy bosom and glorifying her curvy posterior, she gets a very little scope to deliver anything as an actor. Miss Pandey needs to learn to use her facial expressions to convey what she wants to say. Instead, in most intense scenes she heaves her bosom heavily to show frustration or desperation. Her anglicised Hindi gets on your nerves after a point. Shivam is the better actor. The lad looks comfortable before the camera and seems promising. The music is strictly okay and the slick cinematography is the only saving grace of this otherwise below-ordinary production.
In short, just like Poonam Pandey's tall promises, Amit Saxena's Nasha is empty. It promises to be titillating, but remains bereft of any real action or entertainment!
Rating:
out of 5
Reviewed by Prathamesh Jadhav
* Poor
** Average
*** Good
**** Very good
***** Excellent