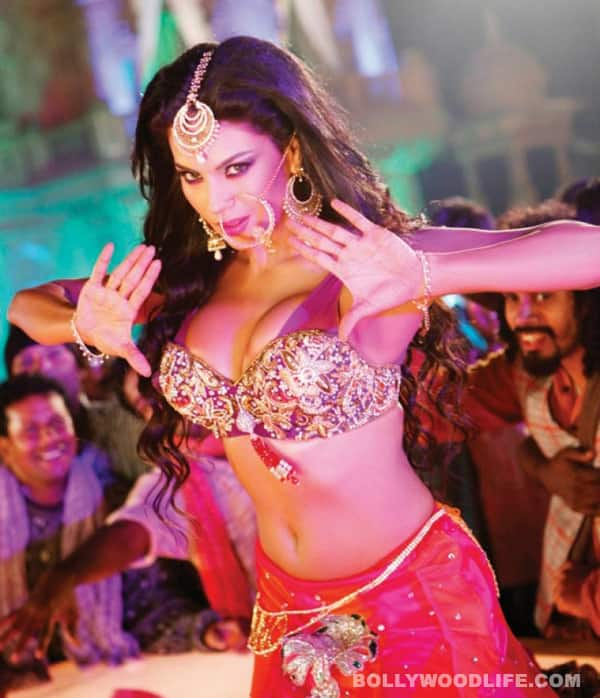 skip advertisement
Bordering on erotica, item numbers are quickly blurring the line that divides hot and sexy from sleazy and titillating. Some of our B-town babes, equipped heavily with their raunchy dance moves and equally shady settings, are subjecting the audience to visual pollution in the name of item songs. Who then is the most vulgar item girl on the scene?
Thrusting her golden panties into the camera lens as she does her pumping pelvic moves, Nathalia Kaur, the new bimbo to join the ever-growing community of item girls, looks absolutely crude. Dressed in scanty clothes (read chaddi) this chick shows off more than what's required in a bid to set your imagination on fire and ends up looking repulsive in the bargain. Though the Department song in question, in which Natalie appears as 'Cheeni' has beats to die for, the racy visuals and cheap dance moves make the song look obscene.
And why just Nathalia? Look at Mallika Sherawat in the Tezz song. Clad in skin-coloured, body hugging outfit, Mallika's Laila doesn't quite add a sizzle to an otherwise hummable song. The nation grooved to Mallika's Jalebi bai tune a year ago, though even there her dancing moves were far from being scorching, this time around the Hisss.. babe gets it completely wrong, even vulgar!
Though heaving bosoms, jiggling tummies, shaking hips and bare backs work best for item songs, all these ingredients need to be best complimented with correct style and adequate oomph. Remember Helen's Piya Tu Ab Toh Aa Ja ….or Madhuri's Dhak Dhak… or for that matter Malaika Arora's Chaiya Chaiya? All these songs thrived on erotic elements but the erotica used to be finely balanced with grace, poise and elegance.
The trend of item songs was always there in the industry be it Shilpa Shetty's Main aayi UP Bihar lootne in Shool (1999) or Yana Gupta's Babuji zara dheere chalo from Dum (2003). Rakhi Sawant's Dekhta hain tu kya from Rakesh Roshan's production Krazy 4 was supposed to be naughty, but Rakhi's cleavage bearing choli and the not so-classy choreography made it distasteful.
Now, we are in no way against the trend of item numbers or the use of sensual dance moves. But we wonder why these songs are made to look so cheap – with crude choreography, unappetizing outfits and obscene camera angles? It looks too desperate, no?
In recent times item numbers have acquired enough importance to be the game changers. The stupendous success of Malaika's Munni badnaam hui and Katrina Kaif's Sheila ki jawani made it almost mandatory to have an item song in every film. In 2011, Mallika Sherawat's Jalebi bai (replete with suggestive and soft-core moves) from Double Dhamaal grabbed the audience's attention and Kat's Chikni Chameli in Agneepath set the screen on fire. Though Chikni Chameli had enough bosom heaving and booty shaking, the song was appreciated for its impossible energy, incredible gusto and Kat pulled it off with such élan that it didn't look as vulgar as it could have. Now when the recent numbers featuring Lailas, Cheenis and Anarkalis and many more entities to come, may have heart-thudding beats, oodles of suggestive and obscene moves but the much required sizzle completely fizzles. What do you think?
Watch now:
Nathalia Kaur's hot item number 'Dan dan' from Department