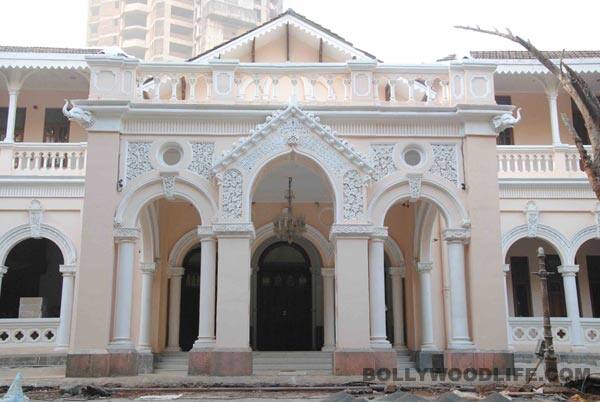 The museum which was earlier supposed to open on May 3, 2013
Mumbai, the teeming megalopolis that is home to Bollywood, is a city used to delays. The sea link  opened behind schedule, as did the international airport's T2 terminal and the monorail, with the metro also falling behind. It is therefore no surprise that the National Museum of Indian Cinema, due to open on the date of the industry's centenary on May 3, 2013, will now be ready to receive visitors only on February 22, nearly 10 months behind schedule.
Union Minister for Information & Broadcasting Manish Tewari said, "As the Indian cinema enters a new century, the National Museum of Indian Cinema coming up in Mumbai is a small tribute of the Ministry of Information & Broadcasting to the great film heritage of India. We have also launched a Rs 600 crore National Film Heritage Mission to digitize best of Indian cinematic works and archive them for the benefit of future generations."
While the archive fund is welcome news indeed, what Tewari says about the Museum being a "small tribute" is exactly correct. For, what opens this week is merely a small 6,000 square foot display at Gulshan Mahal, located at the rear of the Films Division building in Mumbai's Pedder Road. What was promised two years ago was a 50,000 square foot complex, which the Ministry says will 'come up in phases'.
For now, what aficionados of Indian cinema history can expect at Gulshan Mahal, thanks to the guidance given to the Films Division by veteran filmmaker Shyam Benegal, is an interactive walk through down memory lane in three stages – the silent era, the golden era and the modern era. Clips of old classics will be made available on monitors scattered through the venue as will digital audio players pre-loaded with rare film music. For those interested in the vast industry beyond Hindi cinema, the Ministry states "A section on regional cinema is also on display." There will also be a poster exhibition of landmark films from across the country.
Famous studios of the past like Mehboob Studios, RK Studios and Prasad Studios have donated equipment to the museum along with some private collectors who have graciously shared their collections. The Films Division, which was set up in 1941, to produce short films to disseminate information during wartime, has also displayed old Eymo and Mitchel cameras, recording equipment etc. Also of interest are some older instruments, precursors to the movie camera, which created an illusion of movement.
Better late than never and India finally has a film museum, something that even tiny nations like Latvia have had for ages. Here's hoping that the museum is maintained properly, and, more importantly, the Indian public, in thrall to the likes of Dhoom:3 and Gunday, actually bother to visit.