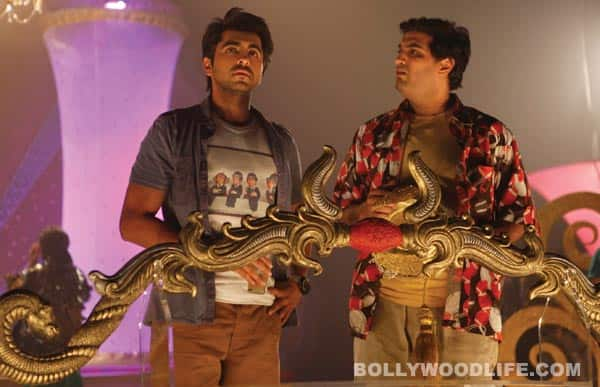 Rohan Sippy's film is a stylish comedy about love, betrayal and friendship
Nautanki Saala, as the name suggests, is a story about people who have a flair for drama in their lives. A comedy at heart, the movie turns into much more, yet doesn't act preachy and does what its main job is – to entertain. A simple enough storyline, where we see a semi-successful theatre actor-director Ram Parmar (Ayushmann Khurrana) witnessing a suicide attempt by a depressed guy, Mandar Lele (Kunaal Roy Kapur). Ram saves Mandar and discovers that he and the suicide victim share a connection from back in college. The do-gooder Ram takes Mandar home, but his attempt at being a Good Samaritan is seen as a clear case of insubordination by Ram's live-in girlfriend.
Mandar's had a break-up and he finds it tough to recover from the situation. While his depression is infectious and he doesn't stop looking for avenues to end his life, Ram decides to take on the jilted lover as a sort of pet project which almost turns Ram's own life upside down and has him sitting on a shrink's couch trying to think where it all went wrong! In the journey to mend Mandar's heart, Ram discovers that rehabilitation is a tricky business, and what he is trying to save could end up swallowing him instead!
This stylish comedy by Rohan Sippy is a smart low budget film that reaches its conclusion slowly, yet when it does, it does so in a very clean and complete manner. No loose ends. The slick film takes time to unravel, but keeps you entertained. Visually it's a treat, with the theatre sequences turning out to be a playground where the filmmaker introduces another dimension by showing a Ramayana that works as a parallel narrative to the events unfolding in the protagonists lives. Rohan Sippy is a master of ambience and here he nails it with some amazing lighting and set designs, right from the jazzy, opening credits.
Ayushmann Khurrana is a natural. He performs the transition of his character from a mere do-gooder to a backstabber with deft. Overacting is forgiven since it's a movie about theatre actors! Kunaal Roy Kapur too is perfectly cast as a lovelorn and depressed loser, but it's a tough role. He has to be depressed, yet funny, and he does a decent job, if not a great one, simply because one feels that there is so much more he could have achieved. A few rough edges, yet a great effort. Pooja Salvi as Nandini, the girl responsible for all the heartbreak is probably the film's only mistake and its weakest link. Her character looks put on and a tad boring. The director hasn't invested a lot of time thinking about her character because clearly the movie is about the two friends, and how friendship stands in the face of love.
Overall, Nautanki Saala is a clever comedy with some amazing characters. Its comic appeal doesn't lie in its buffoonery but its storyline, its characters and its performances, all of which come together to tell a tale that is refreshing and genuinely funny when it's meant to be.
Rating:
out of 5
Reviewed by Reza Noorani
* Poor
** Average
*** Good
**** Very good
***** Excellent