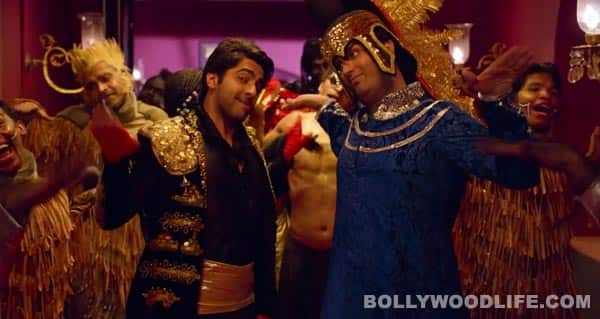 Music: Falak Shabir, Ayushmann Khurrana, Mikey McCleary, Rashid Khan, Rochak Kohli
Singers: Neeti Mohan, Rahat Fateh Ali Khan, Saba Azad, Ayushmann Khurrana
Nautanki Saala, a quirky comedy starring Ayushmann Khurrana and Kunal Roy Kapur, along with a bevy of beauties, and directed by Rohan Sippy, has a soundtrack created by various artistes, making it an interesting mix of sounds and styles.
First up is Pakistani music director-singer Falak Shabir's song Mera man kehne laga. It is a soft, guitar-based acoustic number. Falak sings this lovey-dovey song with earnestness. It's easy on the ears and hooks you. But it continues in the same vein throughout and starts sounding drab with repeated listening.
Saadi galli aaja is a Punjabi track sung by Ayushmann Khurrana and Neeti Mohan. It is fluffy and romantic. With the guitar playing the central role, it's melodious and minimalist. Composed by Ayushmann and Rochak Kohli, it's a fitting follow-up to the duo's first composition, Pani da, used in Vicky Donor.
The next few songs are composed by Mikey McCleary. Originally from New Zealand, Mikey has been working in India as a songwriter and music producer for some time now. Someone who mainly composes songs and jingles for TV commercials, McCleary has created quirky numbers out of old Hindi songs like Khoya khoya chand in Shaitan and Tum jo mil gaye ho for the Coke ad.
The Dhak dhak mix of Anand Milind's original number from Beta is fun for its sheer cheekiness. Model Saba Azad steps behind the mic for this number. Her raw voice and the twang in her rendition make it a quirky riot. The musical arrangement is a mix of traditional instruments like flute and digital sound samples. A major portion of the song is in chorus – sung by Geet Sagar, Bruno Carvalo and Santosh Sawant – creating a larger than life effect. McCleary has remixed this one in his sexy, jazz-inspired style and it's a winner.
Next up is Tu hi tu, a complete contrast to Dhak dhak. This one's a slow hand drums and harmonica-driven romantic song. Draamebaaz, sung by Geet Sagar, is light and fun, with lyrics like 'Life hai danda gilli, sabki udti hai khilli, zor se dhakkha maro, bas ek sorry kafi'.
The next track, Dil ki to lag gayi is a hilariously sad song. The sound is indeed unique. The pathos come through with the harmonica, the violin and horns, and crazy lyrics like 'Rumba romance, tequila shot, mogambo khush hua' make for the humourour elements. Saba Azad's sensuous rendition makes this special composition even better.
Things get more interesting with the remix version of the popular song from the late '80s, So gaya hai jahaan (Tezaab) composed by Laxmikant-Pyarelal. The original voice of Nitin Mukesh has been retained and so have some of the original instruments. But the tempo has been upped at least three notches. The heavy digital beats and fast-paced drumming have turned this slumber number into a high energy techno track.
Then there's Rashid Khan's composition, Sapna mera toota sung by Rahat Fateh Ali Khan in his inimitable style. It's an introspective song, brought to life by loads of string instruments – sitars, guitars and violins. It's the most traditional track on this album.
The reprise version and the remix of Mera man kehne laga are decent, but Saddi galli unplugged is a surprise package. It creates a jazz-style song from a Punjabi number.
Nautanki Saala is a great album for music lovers who want to experiment with genres and styles within the set format of film music. It's bound to have a cult following.
Rating:
out of 5
Reviewed by Suparna Thombare
* Poor
** Average
*** Good
**** Very good
***** Excellent