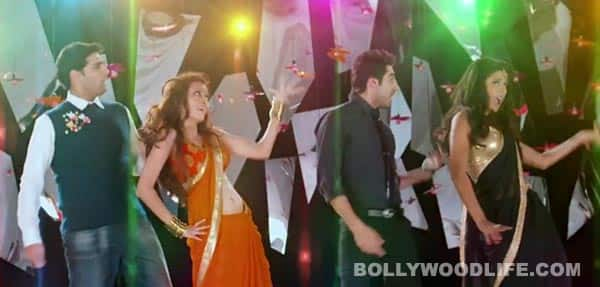 If you enjoyed Rohan Sippy's new rejigged version of the song, you certainly would know what to expect from its making
It's no mean feat to match steps to a song that was immortalised by Madhuri Dixit. But after watching the video of Nautanki Saala's song Dhak dhak, we feel director Rohan Sippy was super confident of pulling it off, and yes, he has done it with the help of the three female actors – Evelyn Sharma, Pooja Salvi and Gaelyn Mendonca. "I've re-done Sabse bada rupaiyya some years ago but Dhak dhak was a challenge. I'm glad that composer Mikey McCleary has managed to bring in some lovely elements and help us make it a new song altogether," says Rohan.
"I'm a big Madhuri fan and the song is among the best songs ever choreographed. It was a dream to dance to its remixed version," says Pooja. While Gaelyn accepts that she had to "work very, very hard to get the moves right", Evelyn admits, "I became nervous when I heard that we were going to perform to Dhak dhak song. Who can have the audacity and courage to dance to a number that Madhuri Dixit has immortalised on screen!" Producer Bhushan Kumar says, "The three pretty girls along with the two nautankibaaz boys – Ayushmann Khurrana and Kunaal Roy Kapur, and their look in the song, created by Mikey McCleary and sung by Saba Azad, has lots of oomph."
So take a look at this making of the song video and we bet your hearts will go dhak dhak watching the three hot babes do all the jhatkaas and matkaas!