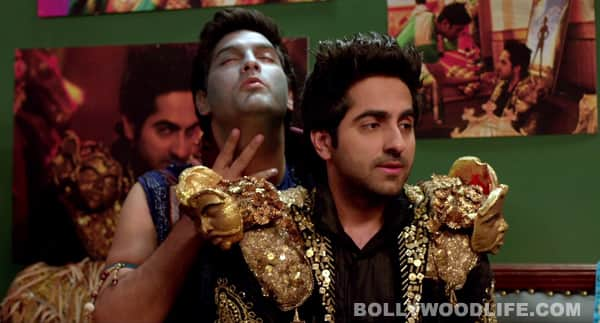 The funny duo chase the woman of their dreams along the mushy tunes of this romantic ballad
From the initial rushes of the film, we thought that Nautanki Saala was an out-and-out comedy, in which the Delhi Belly actor Kunaal Roy Kapoor and the Vicky Donor star Ayushmann Khurrana were busy trying to outdo each other. Yet, one look at the song Mera man kehne laga and it's clear that the film goes deeper than being a mere comedy. The song written and sung by Falak Shabir is a dreamy romantic number that is sure to get to you!
In the lyrical ballad, we see the two love-crazy guys Ayushmann and Kunaal falling for the same girl – the pretty Pooja Salvi. While Ayushmann is more forthcoming, trying to woo the lovely Pooja with flowers, cakes, candies, dinners and trinkets, Kunaal only letches at the babe from far! This shows that there may be some hilarious moments of rivalry between the two actors around whom the movie revolves.
So, who do you think will eventually get the girl? Will it be Ayushmann with his super guitar skills, or will it be Kunaal, with his cute schoolboy charm? Check out the song, and take a guess!
[jwplayer mediaid="194116″]