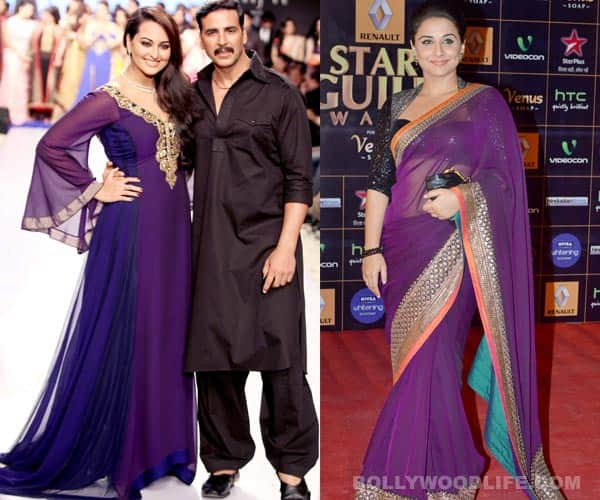 Purple is all about a sense of royalty. Who do you think looks the best in this regal colour?
The colour purple marks the ninth and last day of Navratri. The shade lends a dignified look to its wearer and is usually chosen by intensely creative people. Actors from B-town also seem to like it and have often been seen in this colour.
Not everyone can carry off the colour with ease, not even if they are the biggest stars in filmdom. We'd spotted Vidya Balan in a purple saree and wondered – the drape looked really classy, but Vids got it all wrong by teaming it with a shimmery black blouse. Dabangg girl Sonakshi Sinha was seen in a purple outfit and we must say, of all the purple appearances by various actors, this was one of the best. Shazahn Padamsee and Asin were spotted in purple backless gowns. While Shazahn had chosen a sequinned dress that looked too gaudy, Asin's gown was simple but elegant. We're glad that she didn't go over the top like so many other actors in purple! Superstar Shahrukh Khan's wife too was seen in a purple knee-length dress – see for yourself and decide if you like her in this picture.
The gal who completely disappointed us was Amrita Rao. It was good to see her experiment with her style, but that white gown teamed with a purple velvet jacket completely backfired – the embellished collar especially was a big NO!
This mystical colour is said to be good for lifting up the mood and also encourages creativity. So on the occasion of Navratri, deck up in purple to ensure that you let the creative juices flow in the right directions!