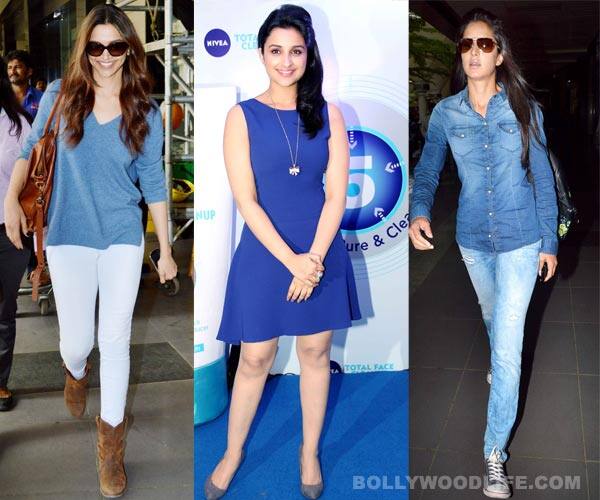 Blue is a very calming and soothing colour, but when B-town celebs stylishly flaunt the shade, they set pulses racing…
The colour blue marks the fifth day of Navratri. This hue is said to have a wonderfully calming effect on the body. That makes us wonder if Bollywood actors add blue to their outfits to find that special soothing effect to deal with their hectic lives.
Let's take a look at some pretty actors who sported blue dresses, long and short! Anushka Sharma was seen flashing a serene smile while dressed in a backless blue gown for a cosmetic brand. For another event organised by the same brand, we spotted Parineeti Chopra in a blue dress, neither too long nor too short, but just perfect. Both these bubbly babes looked marvellous in cool blue.
Deepika Padukone and Katrina Kaif were spotted in the hue at the airport. While Deepika looked cheerful flashing her dimples to brighten up a dull blue tee, Katrina was characteristically bland in her all-denim avatar. Among other celebs who like being blue, those who caught our attention include Amitabh Bachchan, Kareena Kapoor Khan and Kunal Kapoor. All three were seen flaunting blue jackets. Big B's puffy coat looked like it was made of plastic, but his smile was genuine. Bebo looked very smart in an electric blue jacket; Kunal Kapoor wasn't bad either. And we loved Alia Bhatt in a blue jumpsuit – her pink lips, shoes to match and child-like enthusiasm worked for her look!
With so many celebs so closely tied to blue, we took a closer look at the hue. We learned that people who wear blue are intelligent and self-reliant and the colour aids intuition even as it has a cooling effect on the mind. Deep thought… But for now, you tell us – on the occasion of Navratri, who do you think looks bold and beautiful in blue?