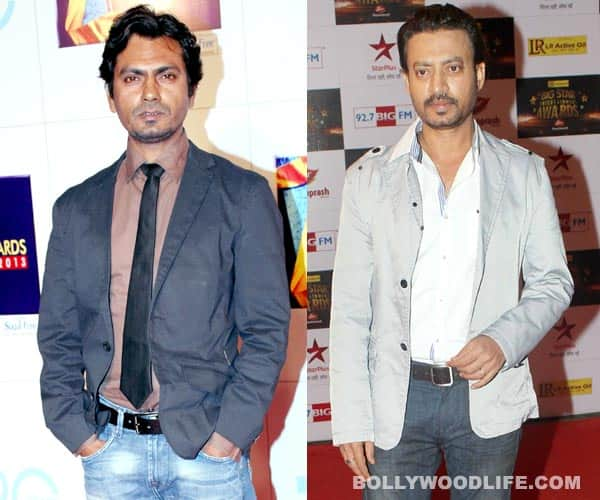 The Lunchbox co-stars were once close buddies, but now their equation seems to have changed. Has yet another friendship gone kaput in Bollywood? Why?
Nawazuddin Siddiqui and Irrfan Khan have known other each other for the longest time. And when these two character actors decided to come together for Ritesh Batra's The Lunchbox, we knew it would be a visual delight. On the one hand, the film is garnering rave reviews from across the globe, even being a potential Oscar nominee, but on the other, we hear things have turned pretty ugly between once-upon-a-time-friends Nawazuddin and Irrfan. So much so that Nawaz is nowhere to be seen at the promotional events of The Lunchbox. Apparently the two started sharing not-so-warm vibes after the makers of film asked Irrfan to supervise its international marketing campaign – after all, he is a popular face in the West and any smart filmmaker would cash in on that, wethinks. This didn't go down well with the Gangs of Wasseypur actor and the rift between the two men widened.
While both stars have vehemently denied having any differences of opinion or anything else, we can't understand why Nawaz hasn't been promoting his film in that case. The Lunchbox has grabbed a lot of international eyeballs and instead of making most of the film's success, Mr Siddiqui has preferred staying away from the limelight. If there is no cold war between the actors, then why any need to play the invisible game, Nawaz? Not long ago the GOW star said in an interview, "The film is about Irrfan and Nimrat (Kaur). I did this film only for Guneet (Monga), who is a very sweet friend and the producer of the film."
Isn't Irrfan your friend too, NS? Didn't you stay with him in a one-room apartment during your days of struggle not that long ago? Looks like that just slipped your mind, right? Yeah, we know, friends turning foes in B-town isn't something new. And it doesn't really matter a whole lot whether people get on well, as long as the film they work on is worth watching, no? So as long as these two actors continue working together and entertaining us, we really won't mind letting anything else take a back seat – agreed, Bollywoodlifers?