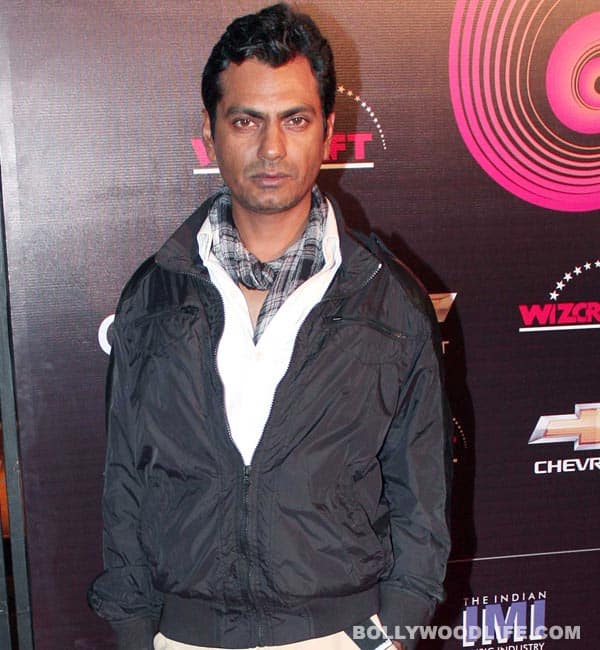 The Gangs Of Wasseypur actor gets candid about his views on the connection between acting, money and stardom
INTERVIEW BY Kabir Singh Bhandari
Nawazuddin Siddiqui's father is a farmer and he grew up in Budhana, in Muzaffarnagar. Nawazuddin Siddiqui worked as a watchman and a chemist before getting associated with serious acting in Delhi, where he graduated from the National School of Drama (NSD) in 1996. In 1999 he got his first role in a Bollywood film, the Aamir Khan starrer Sarfarosh. He relocated to Mumbai in 2000, with Vijay Raaz and Rajpal Yadav, his batchmates from NSD. A few bit roles later, he found himself largely jobless from 2002-2005, sharing a room with four other men. However, the role of a journalist in Aamir Khan's Peepli Live got him noticed and, post Kahaani – where he played an irate inspector – Nawaz had 'arrived'. And now he's all over the news for his work as Faisal Khan in Anurag Kashyap's Gangs of Wasseypur 2. He speaks frankly, the flavour of the rawness of Muzaffarnagar colouring his voice.
What was your father's reaction when you told him you wanted to be an actor?
My father is a farmer. There really was no particular reaction from him, as he did not have much of an idea about acting. Only people who have a formal education seem to have an opinion about certain professions and tend to dictate terms. They are the ones who tend to tell their children what they should or should not do. My father never told me not to pursue acting; in his eyes, whatever I was doing was right.
Did you have any friends from your village who also wanted to be actors?
There is no culture of acting in my village. No one even knows about theatre and acting, so there was no question about other people being involved in this field.
What was the reaction of your friends?
My friends and a lot of other people from the village said that I should not be pursuing this field and it was not a good choice. But I went ahead with what I believed in.
Did it ever bother you that you might not make good money in the initial years?
Well, unfortunately, in this field the money you get does not depend on how talented you actually are. No matter how good your ability is, you might not get your due. There is no eligibility to work here.
But if you are a superstar, you get good money!
Well, that is the sad part – the fact that we are slotted into categories. Someone who is a superstar would get paid humongous amounts for doing a role which is similar to the ones that he has already done before. People like me would get slotted as character actors, and due to this, the money that we would be getting would also be less. This is not right. I feel you should get paid according to your talent and there should be no categorisation of actors.
Being talented is not about being born into a particular family. It is not as if you are born into a certain actor's family, so you will be good in acting. Anyone can do good acting; it depends on ability.
I read somewhere that you have stage fright…
"Matlab kya?" (For a second I'm reminded of the short tempered Inspector Khan, Nawazuddin's character from Kahaani, just about to spew venom). But after he understands the question, he replies:
No, I do not have stage fright. What I meant to say was that I do not like speaking in front of an audience. If I am given a mike and told to give a lecture in front of a crowd, I will not be able to do that. Stage fright, however, is something that I do not have, as I trained at the National School of Drama (NSD) and been part of various plays.
What are your upcoming films?
Talaash, Dekh Indian Circus – which is being presented by Imtiaz Ali – and then recently there was Chittagong.
What kinds of directors do you want to work with in the future?
I want to work with directors who don't have a star hangover. For example, I am not particularly fond of those directors who would later go on to say that if I had not taken Nawazuddin for this movie, then it might have been a hit. Also, I am not interested in working for those directors whose main aim is to cross the Rs 100 crore mark.
What do you feel about stardom?
Being a star is boring. You come in 35-40 films doing the same role again and again. It's just that in one movie your name is Jai and in the other it is Rahul. If I were to take a scene from one of their movies and put into another movie, no one would be able to say whether it's the same movie or not – in other words, all their movie roles look the same.