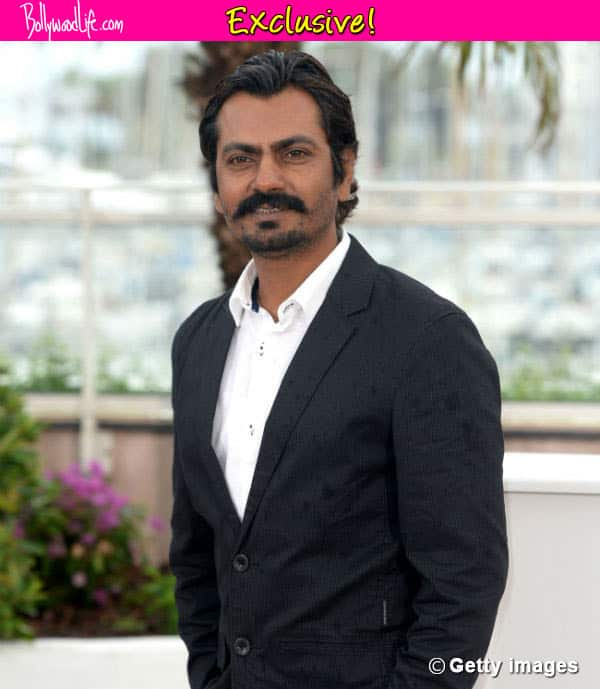 The Lunchbox star has already made a special place for himself in Bollywood courtesy his acting prowess. And for his next film Kick, the talented actor moved into a genre which isn't synonymous to him. So, was it difficult for Nawaz to work in a typical Bollywood masala entertainer? Read on to know
Nawazuddin Siddiqui has proved his mettle as an actor time and again. In fact, he is someone who has never shied away from experimenting with his films or roles as well. From playing a gangster in Gangs of Wasseypur to playing a hot headed intelligence officer in Kahaani, Siddiqui has done it all and with great ease. His inclination towards off-beat cinema is known to all but Nawaz says he wants to do all kind of films. We recently caught up with the supremely talented actor to talk about his upcoming film Kick co-starring Salman Khan, Jacqueline Fernandez and Randeep Hooda. While we found him very humble, he is equally funny. Yes, don't go by his intense looks. We quizzed the actor on how Kick happened, his co-star Salman's singing stint and if he is under any pressure since there is a lot hype around the action flick. Read on to know what he said…
How did you bag Kick?
When Sajid Nadiadwala was writing the characters for Kick, he already had me in the mind. Then he called me for narration and he had designed the character very well. I don't think any actor would have said to no to such a role.
How was your experience working with Sajid Nadiadwala? This is his first film as a director…
Sajid Nadiadwala has produced many films so when you look at performances from a distance, you understand a lot things which you don't when you're closely involved in making the film. Toh woh experience unka kaam aaya direction mein. He knew exactly how to extract the best from each and every actor on the sets. He knows how to do this very well. So aise mein actor ko jyada sochne ki zarurat nei padti. He told me so many nuances of my character that it was easy for me to get into it.
From the start of your career, you have always been part of hatke films. How was it working in a movie like Kick which is an absolute commercial masala entertainer?
As an actor, you have to do all kinds of films. My passion and efforts are same while doing every film and that was the case with Kick as well. My intention is to always give the best performance and my intention was the same while doing Kick. Door se dekhna mein zaroor fark nazar aata hai – Ye bade budget ki film hai ya yeh parallel film ya indie film. But as an actor itna fark nahi hota.
You are playing a negative character in Kick…
Not exactly, but my character in the film has grey shades.
Do you have any action sequences with Salman?
When you see the film, you'll know what kind of action sequences are there and how they have been shot…
So there are action sequences?
Haan thode bahut hain (smiles)
Did you work on your body? Coz in most Salman films the villain is always someone who has a well-built body and a strong physical appearance
Thode din pehle hi khatam hui film to aap ko dekh kar lag raha hai ki maine apni body pe work kiya hoga (smiles)? Ab yeh sawal to aap Sajid se puchiye ki Nawaz itna patla dubla sa hai, maryal sa hai toh usko kyun khada kiya Salman ke samne (laughs)? But, obviously unko laga ki ye character is tarah ka hai ki main usko kar paunga ache se isilye unhone mujhe cast kiya.
How was it working with Salman Khan?
Bahut acha raha rapport unke saath, though my equation on the sets with him was very professional. Salman got along very well with Randeep Hooda. Dono ke beech dosti yaari ho gayi thi and he used to go to gym with Randeep. Mujhe nei leke gaye kyunki unko laga hoga ki iska kuch ho sakta hai actually (smiles).
Expectations are very high from Kick. So are you under any pressure?
Not really…coz I know Kick is a good film. It's Sajid's first film as a director and the script is very strong. He worked on this script for two years. There are lot of turns and twist in the film and that's the reason why I liked the script as well. As for the box office records, producers have to think more about it and not actors, I guess.
Salman Khan has sung quite a few songs in the film. What you have to say about his singing?
I really liked Salman's singing. Earlier when stars use to sing, you would feel they are talking. But in Salman's case, it's actually singing. He has sung like a singer. Usko aap ghar baith ke ya car mein sun sakte ho. Aur mujhe Hangover specially bahut acha laga.
3 reasons why we should watch Kick
It's Sajid Nadiadwala's first film, The script is very tight and then of course for Salman Khan
Describe yourself in one word
Confused
Describe Salman Khan in one word
Honest
Describe Jacqueline Fernandez in one word
Kid
One thing you fear losing
Family
One director you wish to work with…
There is no such wish of working with a particular director.
Are open to doing an out-an-out romantic film?
Main actually karna chahta hoon romantic film aur gaano wali bhi karunga.
Which heroine you would love to romance onscreen?
Koi bhi kyun ki mujhe saare actress achi lagti hain (smiles).