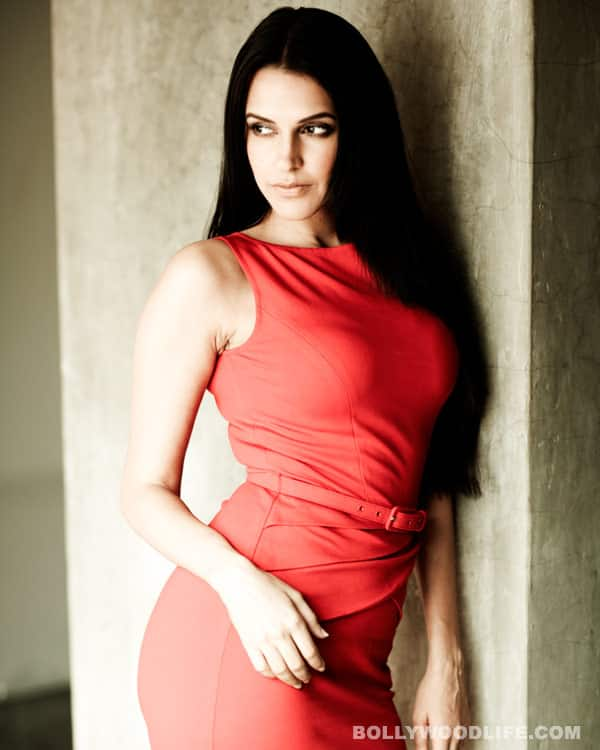 The bootylicious babe is pleased with her progress in filmdom, but there's a lot more she wants. Neha Dhupia tell us about her acting ambitions and what she's doing in her latest flick, a cop drama called Maximum
Sometimes Neha Dhupia makes heads turn with her fashionable appearances on the red carpet and sometimes she delights you with a good performance, like Munni Gangster in Phas Gaya Re Obama or the sultry Sophia in Raat Gayi, Baat Gayi?. And with her balancing act of style and substance the former beauty queen has found a cozy spot for herself in the big world of movies.
The curvaceous babe's next is Kabeer Kaushik's hard-hitting Maximum. Most of the film's promo highlights the tension between lead actors Naseeruddin Shah and Sonu Sood, but you do see a passing glimpse of a traditionally dressed Neha. However, when I meet the sexy lady for the interview, she's dressed in black palazzo pants and a formal top, looking like she normally does when she walks the into a premiere or event.
Tell her look in Maximum is new and she agrees, "When I look at myself on screen in a bindi and a sari, I am pleasantly surprised…" Neha plays Sonu Sood's supportive wife in the drama inspired from real-life encounter cop stories. So she ditched the quintessential sexy dresses for simple cotton saris in the film.
The hottie with a big booty says, "In this drama about courage and revenge I provide the emotional chord in the film, something I haven't done before." And she is confident she won't get lost in the power struggle between Sonu and Naseer's characters in Maximum.
"I have a standalone track and there's no scope of getting lost. And if you are playing a leading lady, it's hard for you to get lost. I play one of the core characters in the film and that's what made me take it up," says Neha.
That means it didn't bother her that the filmmaker Kaushik (he directed Sehar, Chamku, Hum Tum Aur Ghost) didn't have a good run at the box office? "When my films don't work (at the box office), it doesn't mean people don't work with me, right! So when I had a director with a well-written film and back in the genre he belongs to, I couldn't say 'no'," says Neha. "Had it been anyone else, I would have done the film. I have a lot of respect for directors who write their own script. And his (Kaushik) attention to detail is beyond belief. He is extremely clear about what he wants. When the director knows what he wants, then half the battle is won."
In the recent past, her conviction and belief in a particular roles and films haven't really won her any accolades. We are talking about Gandhi To Hitler (she played Eva Braun, Adolf Hitler's partner n the film) and Pappu Can't Dance Saala (she played a sexy aspiring actor). But the Cochin-born actor doesn't believe in dwelling on the past. Neha says, "I never take credit if a film does well (at the box office), and never beat myself up if any of my films do badly. I have nothing to do with the hit or flop of my films. Acting is just one of the things I do and there is more to me as a person. Having said that, I work as to what's written in the script. And apart from the script, box office success is also a matter of fate. For people whose films work, no matter what they deliver, they just keep working. So there is no formula to success."
Does that mean she is happy with the progress of her acting career so far? "I am happy. I was happy even when I was not an actor. I will always be happy. No one is going to take that away from me," she insists. "Am I satisfied? Not really! I have come a long way, but I think I have a longer way to go. So I am going to hang in there and continue doing good work."
We hope so too! 'Coz good things come to those who wait, and we think Neha is in no hurry to go anywhere any time soon.