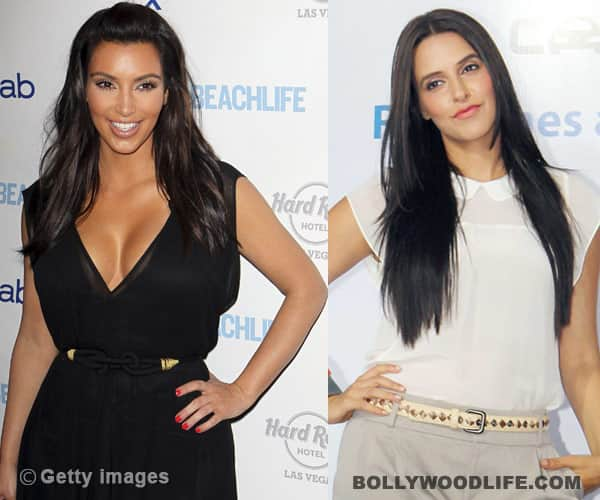 Two peas in a fashionable pod, we mean. What did you think? Spot the similarities between the two voluptuous divas…
Neha Dhupia and Kim Kardashian – the two women are so much alike that we don't know why we didn't say it out loud before! And we're not talking about talent here at all. Its more physical…this time! From body structure and face shape to uncannily similar dressing styles, we're sure that you will have made that connection before, in some silent part of your brain. And now that we have all got the hook, let's really look into it and lay it all out for you – what makes the two curvaceous bombshells so alike?
Bootylicious Let's not mince words here. Neha and Kim both have an amazing butt! And the fact that they aren't afraid of flaunting their great derrieres is something that has worked to their advantage, fashion-wise, and notable. So be it skirts or denims, bikinis or the little black dress – the awesome behind they carry with them always manages to capture the imagination!
Rack it! Both Neha and Kim are naturally busty babes. While with Kim it's reportedly not all natural, the overall look is similar to our desi diva's. As for Neha – we can she is one hundred percent…err…Neha . From the time she did her first Euphoria album before her Miss World gig, until her recent appearances on and off screen, you can clearly see that Neha is just naturally blessed and curvy as sin could be!
Face Neha has a pretty, oval-shaped face and so does Kim; but again, Ms Kardashian rumouredly has had a little help from a cosmetic surgeon or two! Her before and after pics show distinct variations in the shape of her lips, that pert nose and those gorgeous eyes, with a little jab or two of Botox, depending on what time of the year the picture was taken and what which reporter has said! Neha, meanwhile, is almost all as God granted, though there was news of her doing a bit of Botox on her face to ease the crow's feet, but that's kosher, we think.
Body Though it may not seem so, Neha Dhupia and Kim Kardashian sport similar body measurements. Kim's figure stats are 34-26-39, as per her blog post. Neha measures in at 34-24-37. In this respect Kim is heavier than Neha. While Ms Dhupia has been a fitness freak for a while now, Kim really let go of herself for a while…until new love Kanye West reportedy took her in hand and got her back into high-intensity workouts. But then neither gal has never shied away from being voluptuous, has she!
Style Since their body structures are similar – busty and full bottomed – they sport a similar style sense. And both look sizzling in bikinis. They have an awesome sense of style, and can rock a little black Versace with as much elan as they do a pair distressed denims!