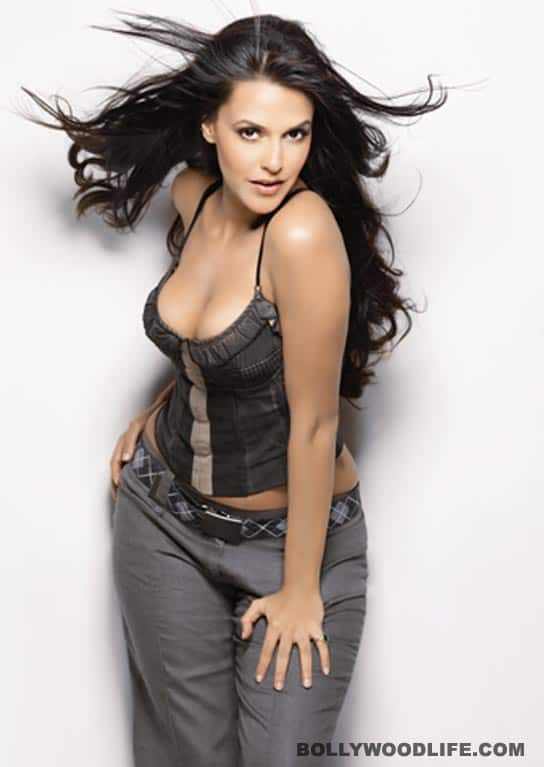 Despite an interesting journey onscreen so far, Neha Dhupia, who will be seen in Gandhi to Hitler, feels that the film world is not taking notice of her potential. The babe gets candid on her tryst so far with Bollywood…
Miss India-turned-actress Neha Dhupia is not someone to shy away from challenges; on the contrary, she loves them. And that's what keeps her going. It would not be incorrect to say that slowly and in a smart way she has made a little place for herself in the Hindi film industry.
After a long gap she returns onscreen in another offbeat avatar – Eva Braun (Adolf Hitler's partner and wife), in her latest film, Gandhi to Hitler. About playing the historical character Neha says, "It was a challenging role. And I love challenges." Unlike Hitler, there is little information available in history books on his long-time partner-turned-wife, but Neha lapped every little write-up and picture she could find to familiarise herself with her part.
This is not the first time she has done something unconventional. Remember Ek Chalis Ki Last Local, Mithya, Raat Gayi Baat Gayi and the very recent Phas Gaya Re Obama? So far she has excelled in the off-the-beaten-track kind of work. Is that why she consciously treads that path? "No, the conscious decision is always to be associated with the right kind of script," insists Neha. "I don't know if something is going to work or not going to work. But at my level, I know my work is immortal and it is going to stay longer than me. And I want to be associated with the right script at least at the level of story-telling. If a film works or doesn't work – that's really not in my control."
However, she strongly relies on gut instinct. The Cochin-born actor explains, "You know, I am extremely happy with the response Phas Gaya Re Obama got. I am so happy that I am on the same wavelength as the audience. But at the same time I am not shying away from commercial cinema or smaller budget films. Last year I also did Action Replayy. It's really not the size of the film. I think the size of a film is defined on the Friday it releases. You could spend 50 crores and next day your worth could be zero, or you could spend three crores and the next day your worth could be 30 crores."
It is no surprise that Neha is a favourite with a lot of small-time and offbeat filmmakers. The Qayamat debutant said that she did Phas Gaya Re Obama because the director wanted no one but her to play the female Gabbar. After such preferential treatment, how does she cope with small parts in mainstream multi-starrers (Singh is Kingg, De Dana Dan and Action Replayy)? "No, I am not okay. It's just that I get great roles. In Action Replayy, I had a good role – at least on paper. But it's unfortunate when such things happen. When a film goes through an edit, it is for the benefit of the film. See, I am not going to sit here and cry about what happened and what didn't happen," she insists.
"But, yes, all I am saying is that I have been in the industry for seven years now and if I have lasted this long, I am sure the audience has accepted me. I have done a lot of challenging work in the past few years. Whether it is Ek Challis Ki Last local or Mithya or Singh is Kingg, or being a small part of a lovely film like Shootout at Lokhandwala, or even breaking out from a film like Julie and getting straight into a salwar kameez-clad role in Chup Chup Ke, I feel it's high time people sit up and take notice. I just feel, as far as the fraternity is concerned, I deserve a lot more," says Neha.
Instead of crying herself hoarse for not receiving her due as an actor, she takes it positively. "But the good thing is that from here the scale only goes up. If you think you have received your due, then it's a really scary place. Here, with a film, I get a pat on my back and it's really nice. It is challenging and I love it. I love being a part of the industry. I think I have carved a niche of my own and I am in this phase that makes me comfortable, happy. I enjoy the work I am doing. Work is coming my way. And you just have to choose the right thing. As long as you are in a position where you are choosing and not begging, it is a great place to be."