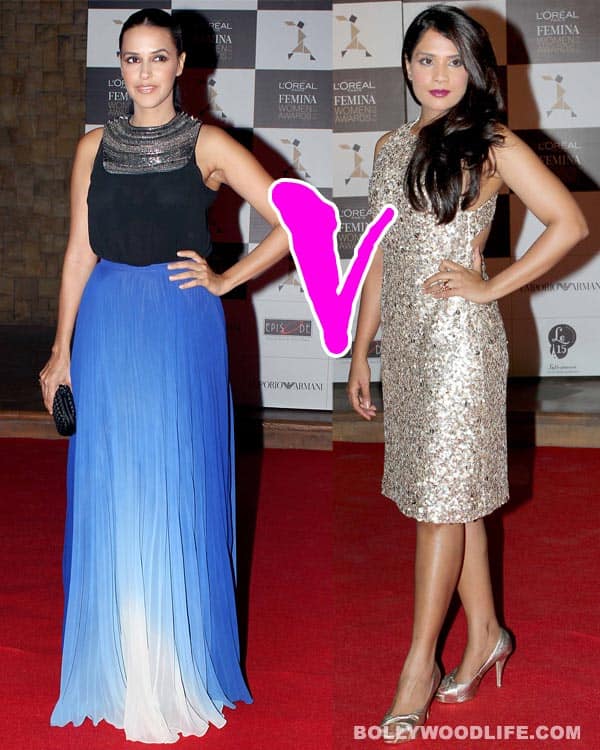 The two babes were spotted at the L'Oreal Femina Women Awards 2013. But did they manage to pull off a red carpet coup?
Neha Dhupia – the fashion queen known for experimenting with different looks – was spotted in a rather unconventional style on the red carpet. She was seen wearing a pretty blue and white maxi skirt and a black Anaikka top. Her hair was gelled and neatly tied up into a chignon. We had to wonder why she has shown the red stop signal to splashing nice, vibrant colour on her lips. The clutch is simple and spot on. But is this a red carpet statement? Nay, not really; maybe a brunch outing with friends or a chic cocktail soiree would be more apt for sporting this ensemble.
Gangs of Wasseypur babe Richa Chadda, on the other hand, was quite over the top – nothing close to ND's plain and sophisticated style. RC went all bling bling in her sequin embellished dress. Our only gripe is with the length of the frock and the heels she has chosen to wear with it. A shorter length and really high ankle strapped black or nude heels would have had been perfect. And thank God someone believes in the style power of a bright lip colour (knock, knock Neha!)! We like that plum lip shade, Richa – it looks sizzling!
Since no one really scored brownie points when it comes to making the top spot on a red carpet appearance, we decided to pick the one who's somewhat close to the winning position. Neha is our style sweety for the day – who's yours?