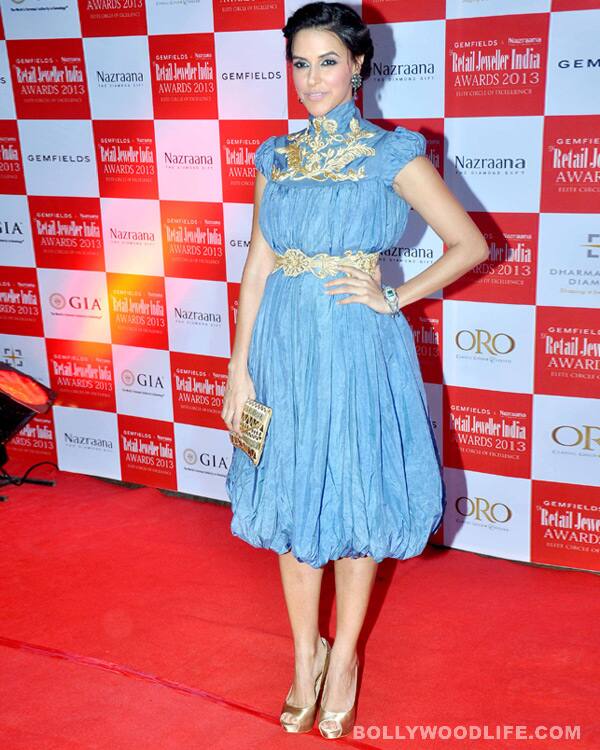 We caught up with the fashion-forward babe at the recently held Retail India Jeweller Awards to find out more about the secret of her impeccable style
Neha Dhupia is invariably the lady who turns our heads with her flawless red carpet appearances. We cornered the gal at the recently held jewellery awards in Mumbai, where she turned up in a high collared blue dress. Neha looked nothing short of a princess in the Shantanu Goenka creation. The heavy embroidery, the gold clutch and the bling peep toes completed the look.
The Miss India-turned-Bollywood babe stunned us as always with her elegance and style, but what caught our attention instantly was the chunky bracelet Neha was wearing. "It is very important to wear the right kind of jewellery for the right kind of occasion. I love this elephant bracelet. But unfortunately, I have to give it back (after the show)," giggled the star.
When it comes to her designer outfits, Neha tends to choose comfort over style. "Style is very individualistic thing. It entirely depends on who you are and what you think. As long as I am comfortable and manage to carry off anything, I am confident – and that's what matters. Many people say that my style is very eclectic and I draw different feedback from different people for my style.I am not a style diva for all," explained Neha.
The star also maintains that the amount of money you spend on an outfit has nothing to do with it how stylish it can be. "There's no such thing as being overdressed. If you are on the red carpet, you have to give it all you have got. Walking on the red carpet is a tightrope walk. I would not doll myself up from head to toe. It's also about having a lot of fun," she insisted.
Take a look at Neha's style in these pictures and tell us – what worked best for her on this occasion?