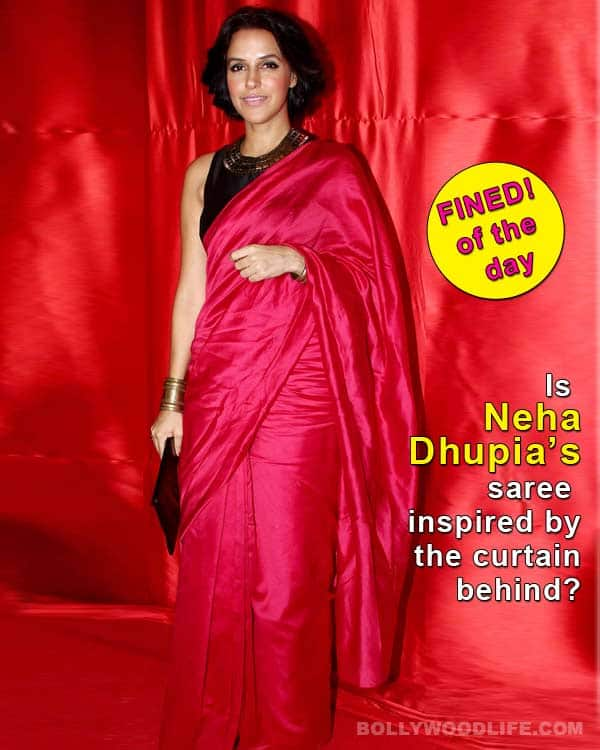 The actor was spotted at a trailer launch of her upcoming movie Ekkees Toppon Ki Salaami
Welcome to a brand new fashion police raid by BollywoodLife! Every week we give you a follow up of the best dressed celebs in B-town. Well this time, we bring to you a new and improved way of critiquing the celebrities' fashion sense where we give you a detailed reasoning for the same. Our slug will be called 'Fined of the day' where we will be picking up a celebrity each day and putting them under our scanner. Let's start with debutante Neha Dhupia…
Now getting to the point and breaking it all down… Things about the actor's attire which failed to impress us:
A thousand splendid creases
We are certain of what to gift Neha for her next birthday. An iron! The hottie was seen wearing a Payal Singhal Saree which bore plenty of creases. The attire on the whole came across as sloppy and wasn't draped to compliment Neha's figure either. It's time she uses that iron alright 'coz the creases won't do her any good we are certain!
Indira Gandhi in the making….not!
The Dus Kahaniyaan actor was seen sporting a hairdo which seemed to be inspired by the late Prime Minister of the nation, Indira Gandhi. Where Ms Gandhi looked poised and elegant with her unique grey streaked hairstyle, Neha on the other hand, failed to create a similar impression. Better luck next time Neha!
The background story
First the unimpressive red saree and then Neha's stint of posing against a backdrop having a curtain of the same color! Looks like the actor wasn't thinking straight at all. It almost seems like she cut a piece of the curtain behind her, draped it around herself and struck a pose for the shutterbugs. Well Neha, you could have atleast chosen a better background to pose against if not an appealing attire!
Let us know what did you think of our new slug! Post your comments below and stay alert on BollywoodLife for daily celebrity fashion bashing!