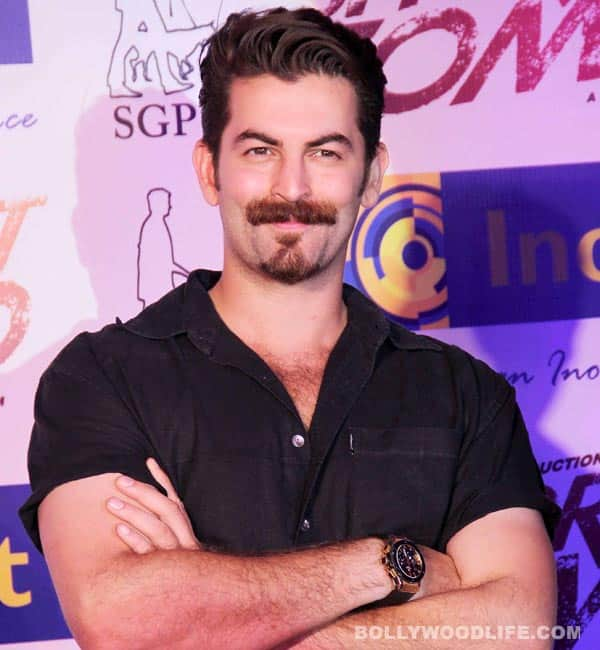 The actor talks about his love for negative characters, classic love stories and his moustache
After a late night shoot for his upcoming movie Dussehra Neil Nitin Mukesh met up with us at his Napean Sea Road apartment recently. The actor, who is currently looking forward to his forthcoming release Shortcut Romeo looked relaxed and sleepy. He spoke at length about his love for two contrasting aspects of his personality – grey characters and eternal romances. He also talked about one more thing that he loves a lot: his moustache.
You have been travelling a lot for the shoot of your last few films…
Yes, it's a part of my job that I love. We shot in Fiji for 3G. Abbas Mustan took us to Russia for Race 2 – in fact, the North Pole. And we shot in foreign locales for Shortcut Romeo too. You sometimes get to visit places you never thought you would. But it's also tough sometimes. Like during Race 2, we had to shoot in sub-zero temperatures.
You are playing a character with grey shades in Shortcut Romeo, yet again. You seem to have a thing for negative characters…
Yes, I guess. But even within the grey characters I get the chance to play different shades. From Johnny Gaddaar to 7 Khoon Maaf to Players – all the characters were different in that sense. In Shortcut Romeo too I don't play an out and out negative character. His real name is Suraj, but his friends call him Romeo – a lover. He is someone who is looking for true love.
You are a romantic in real life too, right?
Yes, I am a romantic. I love the romance in old movies. I grew up watching Raj Kapoor films. Madhumati for me is a classic romance. Films like Milan and Sangam are beautiful love stories.
Then why haven't you done an out and out romantic movie yet?
I would love to. And it's not that I haven't been offered a romantic film. It's just that nothing clicked. The X-factor was always missing.
Your cousin Sameer Sharma recently wrote and directed Luv Shuv Tey Chicken Khurrana… you are also interested in making your own film, aren't you?
Yes, I have written the script for a film called Paidar. It combines two of my favourite genres: romance and action. Every actor wants to do a dream role, and this I would say is something I have wanted to do for quite some time now. I have also composed music for the film. When I am not acting, you'll find me at my desk writing or composing.
Do you think it is possible to portray eternal romance in today's times? Many filmmakers have set their movies in the past because they find it difficult to show that kind of romance in today's environment. Case in point: Sanjay Leela Bhansali's Ram Leela and Vikramaditya Motwane's Lootera.
Yes, you can definitely show eternal romance today. People's lives have become so fast and practical that they would love to relive eternal romance set in today's times on the big screen. In fact, today people need to see such films. I feel Sanjay Leela Bhansali probably felt that he needed to set his love story in an earlier era to give it the larger than life effect.
You have a 'good boy' image in the industry. Is there a mean side to you that you hidden from the rest of the world?
(Laughs) I am what I seem to be. I am a very transparent person. If I am angry or upset with someone, I express it. Sometimes it works against me. Actually, it has a lot to do with my upbringing. I was brought up in a simple and secure environment.
What's special about Shortcut Romeo?
I want people to know that Neil Nitin Mukesh's films can be entertaining. This film is enjoyable and entertaining.
Who worked on your long hair and stubble look in the film?
I did. I wanted the character to have long hair and a rugged stubble.
You are currently sporting a tiny beard and moustache…
That's for my next film, Dussehra.
Everyone seems to be going for the moustache look – the Khans did it and currently, Ranveer Singh…
I have had a moustache for many of my roles. In 7 Khoon Maaf, David and Players, but they were different styles. For Shortcut… I also decided to grow my hair. I started growing it after the end of Players. But then we had to shoot a promotional song for the film, Abbas Mustan were like, what should we do now? But I managed. I pulled my hair back and gelled it. I have light brown hair. When I grow it out, it looks even lighter. And in the sun it looks bright and golden. Actually, through my growing years I had a lot of issues with the colour of my hair. I often contemplated colouring it black when I was younger. Of course, I never did it.