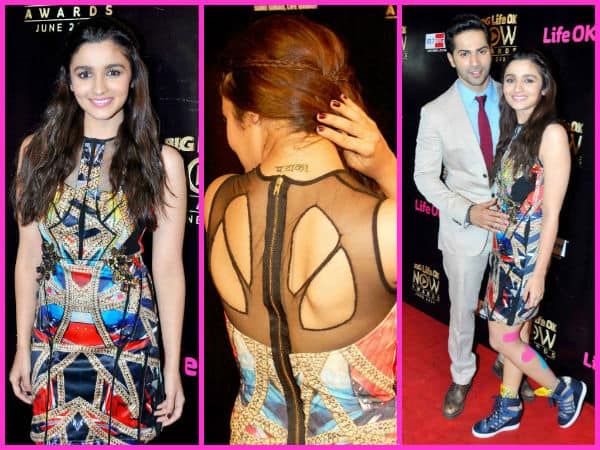 The 2 States heroine was recently spotted at the Life OK now awards, where she revealed a name that she would like to get tattooed. Who was it? Read on to know more…
Donning a shimmering multi-colored dress topped with those black sneakers, Alia Bhatt looked every bit a funky diva and was at her chirpy self at the Life OK Now awards. She was seen accompanying her Humpty Sharma Ki Dulhania co-star Varun Dhawan.
We recently gave a sneak peek at Alia's 'Pataka' tattoo that she happily showed off at the event, not to mention the paparazzi going ballistic with their clicks! But when asked whose tattoo would she permanently inscribe on herself, the 2 States actor had an interesting answer.
Nope, it's not Varun Dhawan, Sidharth Malhotra or Arjun Kapoor if that's your guess. It's none other than her cat! Talking about the idea if getting a permanent tattoo, the hottie said "If I have to get a permanent tattoo, it would have to be of someone very special to me. I think it'll be my cat."
Well looks like the youngsters of B-town have failed to flatter Mahesh Bhatt's darling daughter. Where Deepika Padukone made headlines with her Ranbir Kapoor(RK) tattoo, and Saif Ali Khan with his "Kareena" (Kareena Kapoor) tattoo, looks like Ms Bhatt will have to wait for a while for her "love" tattoo. We hope she gets one soon!