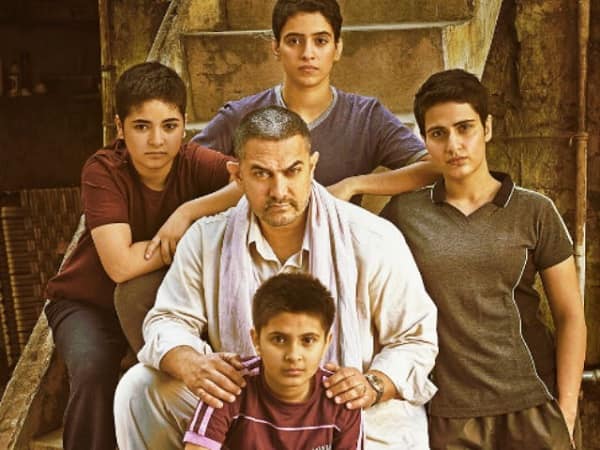 Aamir Khan releases one film a year, and takes the box office by storm. He plans on to do the same with Dangal this year. The sports based drama is all set to release on Christmas this year. The first trailer of the film will release in a few hours but before that here are two stills of the film to get you all pumped up for the release. Aamir appears in two different looks in the stills which indicates the age shift we will see over the course of the film. One of the stills is a closeup of Aamir's face, and he is sporting a moustache in it. In the other still we see Aamir with no moustache but with a scruff. Also visible in this still is Sakshi Tanwar, who is playing Aamir's wife in the film.
Dangal will be the second film based on wrestling to release this year. Earlier, Salman Khan's Sultan released and was a box office success. But while Salman's was a fictional account of a man named Sultan who goes on to become a MMA wrestler from an Olympic champion, Aamir's film is a biopic based on Mahavir Phogat's life. Mahavir trained his daughters in the sport of wrestling, and the girls went on to win laurels for our country.

The film marks to be the silver screen ticket to not one or two but 4 young girls who will be seen playing the role of Aamir Khan's daughters. Fatima Sana Shaikh, Sanya Malhotra as Geeta and Babita Kumari Phogat and Zaira Wasim and Suhani Bhatnagar as their younger versions.
The Dangal team has been on a preview spree, with multiple screenings of the film being held for industry insiders. The experts have a lot of good things to say about the film which is out and out touted to be 'This years most entertaining film'. All that buzz and the positive feedback. Shabana Azmi watched the upcoming film Dangal at a special screening on her 66th birthday. She said it was the best birthday gift for her.
Dangal is led by the National Award winning director, Nitesh Tiwari. And we so cannot wait for the trailer.