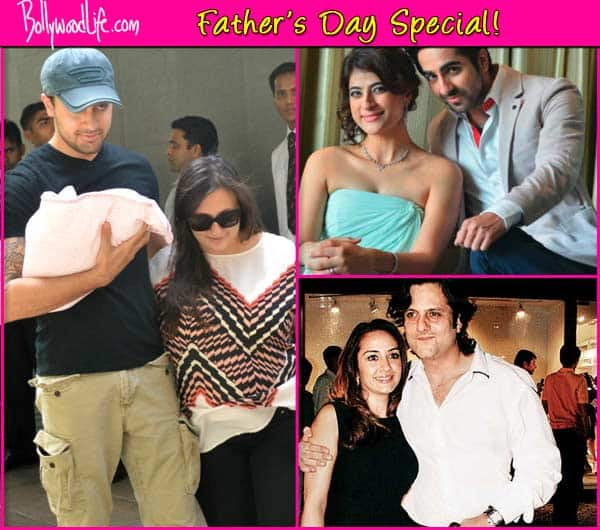 On the occasion of Fathers Day BollywoodLife takes a look at some of the recent fathers of B-Town
Fatherhood is considered as a bliss and even in Bollywood actors do take their kids very seriously. Whether it is Shah Rukh Khan, Aamir Khan, Akshay Kumar, Ajay Devgn, Hrithik Roshan or Arjun Rampal, they all take time out of their busy schedules to give ample amount of time to their sons and daughters. Today, let us have a look at some of the newest dad's of B-Town.
Imran Khan and Avantika Malik Khan were blessed by a baby girl on June 9, 2014. The couple got married in January 2011 and hosted a starry reception in Mumbai in February 2011 that saw most B-town biggies in attendance. Imran-Avantika were in a relationship for almost a decade before they got hitched. Imran's uncle, actor Aamir Khan and wife Kirran Rao are now the coolest grandparents to this little bundle of joy, which also makes Aamir's 3-year-old son Azad Rao Khan the cutest uncle. All of this definitely makes Imran the coolest new father.
Ayushmann Khurrana and Tahira Kashyap Khurrana, were blessed with a baby girl on April 21, 2014. The two were childhood lovers and decided to solemnize their friendship into marriage. This was he second time that the cute couple had a baby. They already have a baby boy who was born in 2012. With so many various talents like singing, dancing, acting, hosting, radio jockeying, Ayushmann is definitely the most talented new dad and we hope his son and daughter will both inherit a lot of talents from him.
Fardeen Khan and Natasha Khan were blessed with their first child, a baby girl, on December 11, 2013. The cute couple got married in December 2005 and then got busy with their respective careers. But now they are all ready to start a family. Apparently Natasha had had a tragic miscarriage of twin babies a year back and therefore when they brought home their little angel, the whole Khan family was ecstatic. With this little angel coming into their lives we're sure this family will make for a perfect family picture.