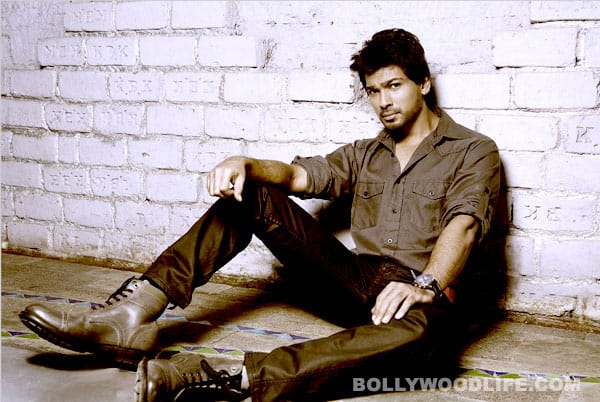 After the critically acclaimed Shor In The City, Nikhil Dwivedi will now be seen in Vivek Agnihotri's Hate Story. It's a film that has been in the news for all the wrong reasons – the bold sex scenes and shocking dialogues. The newly married actor says how and why he became a part of this erotica
Paoli Dam's sexy back, intimate scenes and a shocking dialogue is what may stay in your minds when you watch promos of Hate Story, but there are two men who take the wronged woman's journey ahead in the thriller. One is Shaitan fame actor Gulshan Devaiah, who indirectly compels Paoli's character to take up prostitution and the other guy is Nikhil Dwivedi, who seems to be the only supporter of the wronged woman. That's all we know of the Shor In The City actor's character in the film. And he prefers it that way.
"We (the team of Hate Story) like it that way. The idea is let the character unfold in the movie," says Nikhil. Even if that means he gets overshadowed by the sexy Paoli and her nemesis Gulshan's characters? Pat comes his response: "After the film releases what stays in public's memory is the film. How many promos or trailers do you remember? So wait and watch the film."
While some can't wait to watch India's first erotic thriller, most are appalled at the boldness projected in the film. What was the newly married actor's reaction when he was offered the erotica? "I was told this is going to be a thriller. They were trying to push the envelope – in the sense it's going to be an erotic thriller. I said that I am fine as long as I am not part of the erotica," says Nikhil and he adds, "I am not comfortable being a part of the bold scenes. I said that to the filmmakers, right in the beginning. There were some of my portions in the script that were worked upon. You can't always separate the actor from the individual. I don't think I can pull off erotica."
But before we jump the gun and perceive him as a prude, the 30-something continues, "I am not against any sort of eroticism in films. I don't mind watching such films. There's always a primal instinct inside all of us. When the script of HS was narrated to me I knew the film is going to be shot well. It's not a film that will make you squirm. It's not a film that I will be embarrassed about. Yes, a lot of questions would be raised and a lot of debate would happen on the kind of content the film has. Everyone will be shocked even when they watch the promo. But I was game for it."
So if Nikhil doesn't have any meaty scenes in the thriller, why did he agree to be a part of an erotica? "I did it for emotional reasons. I was going to start my career with Vikram Bhatt, but the film didn't happen. I wanted to work with him, so I did HS," he says and adds, "There are not too many people I would do films for. I would blindly do it for E Niwas, who gave me a break and a few other people who supported me at that stage of my career when I needed it the most. I am not saying I am going to be unprofessional and doing any film for emotional reasons, but there are certain people who invested in me and for them I will do it."
However he quickly adds, "I still maintain I didn't do the film just for emotional reasons but it's a good project and Vivek Agnihotri was directing it. I knew he would shoot it well. His efforts to make the film into a classy product do show. If Vivek didn't handle it well the film could have gone completely wrong."
Speaking of things going wrong, rumour was Nikhil's relations with the makers of HS had gone slightly awry, so he didn't want to promote it. "I am hearing this for the first time. The promotions have just started. I don't become a part of films if I don't want to do it and once I become a part of it, I'll own it," says the My Name Is Anthony Gonsalvez debutant.
Looking back at the MBA-turned-actor's career, he has done an action comedy (My Name Is Anthony Gonsalvez), a comedy (Khalbali), a crime adventure (Raavan) and an indie crime drama (Shor In The City). But the varied plots don't indicate if there is any specific genre the actor would like to be associated with. "Every film of mine so far has been different. I don't care as long as I am offered a good story. As an actor I don't want to establish myself with a brand right now. I want to establish that an audience who will watch my film. And just remember that Nikhil Dwivedi is an actor who came from nowhere and is trying to make his way up. He can deliver, he can emote and for me that's my ambition right now. After I have achieved this I will think of the next step."
Nikhil believes that the audience won't be let down after watching HS. Let's hope for his sake that this bold movie turns out to be a step in the upward direction for the actor who is still struggling to make a place for himself.