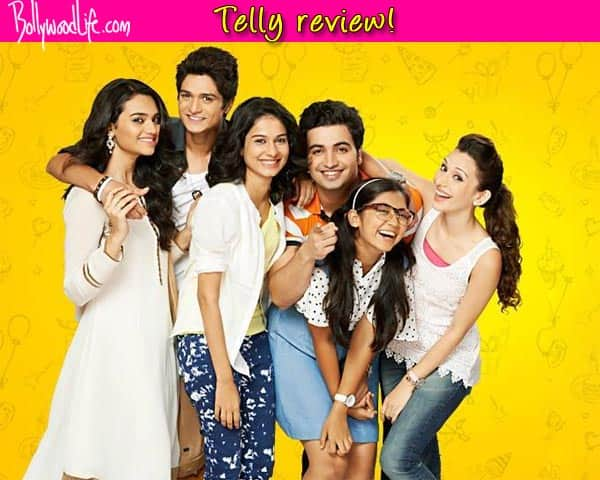 Star Plus' new show is energetic, vivacious, interesting but the actors still need a little bit more polish when it comes to their craft
Nisha Aur Uske Cousins is the story of seven siblings living in a joint family. The head of the family – Dadaji (VM Badola) is a strict disciplinarian, who runs a tight ship. Everyone is expected to follow his command. Well with such strict rules, rule breakers are automatically born, right? The entire show revolves around the everyday interaction and relationship between the siblings.
STORY
The show starts with Nisha (Aneri Vajani) climbing a fort wall scouting for a place to have a farewell party for Dolly (Purvi Mundana) before she gets married. Umesh (Meherzaan Mazda) – the eldest cousin is working at the family jewellery shop when he gets the location of the party. Suketu (Parv Kaila) is a college student, who has been failing in his exams, picks up his youngest cousin from school Jwala (Barbie Jain) who is a bookworm and has no social skills. Dolly and Kirti (Heli Daruwala) are out shopping when they get the message.
Nisha prepares an awesome setup (really looked good) for her cousins – they drink, dance and make merry knowing that tonight no one will stop them as Dadaji is out of town. While it seems like everything is simply perfect between them all – that's not exactly the case. Nisha and Kirti end up fighting in between, Suketu spends the party money on himself and then they get the news that Dadaji cancelled his Ajmer plan and is on his way home. With that the party comes to a stop.
What's HOT
The first camera shot of Nisha climbing the wall was brilliantly shot. VM Badola is an epitome of perfection. Even at this age, his body language speaks volumes. The equation between Nisha and her father played by Vivek Mushran is adorable. Suketu's wannabe attitude and desperation to be counted as the cool one is beautifully put across. Heli Daruwala looks hot exactly as her character is meant to be. Nisha is ideally the hero of the show – her tomboy look, attitude and body language is perfect to the T. Dolly's expectations post marriage is a relationship with a new credit card – hilarious. The language is light, which is great for once. The story is interesting but can be a bit more engaging.
What's NOT
Dolly's broken English is a major turn off. Umesh's love for cooking probably needed to be brought out differently. Jwala's lack of social skills seems forced and her hesitation towards mingling with her own siblings confuses us a little. The camaraderie between the siblings somehow is not that easily seen onscreen so far. It looked like everyone was still holding back when the first episode was shot. They could do a lot better with a few more workshops and training.
Verdict
Nisha Aur Uske Cousins has the scope to be a huge hit. All that is required is to avoid the unnecessary melodrama and keep it simple, sweet and straight forward.
Rating:
out of 5
Reviewed by Letty Mariam Abraham
* Poor
** Average
*** Good
**** Very good
***** Excellent