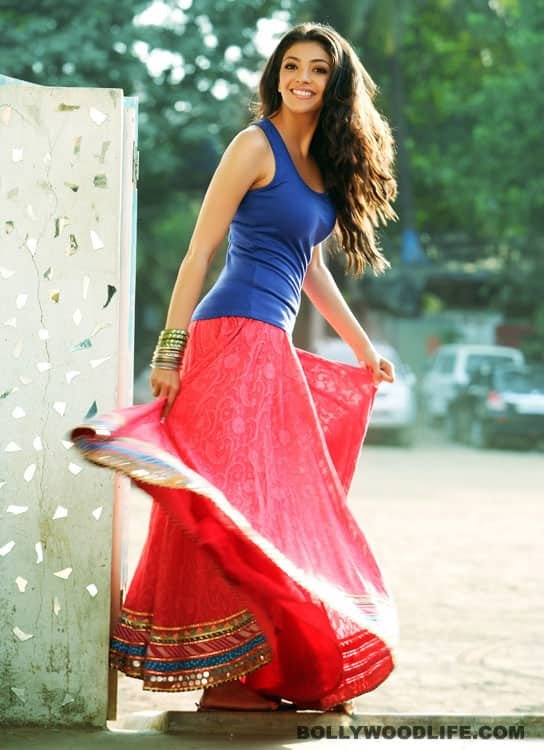 The Singham newcomer belongs to a new generation of actors, but the latest hit girl from the south wants to follow her own path when it comes to Bollywood. Kajal Aggarwal, who comes across as a very confident girl, in a candid conversation about her first Hindi film
She is the new Kajal in Ajay Devgn's life, but the Singham girl is not new to the big screen. Twenty-one-film-old Kajal Aggarwal is Bollywood's latest import from the Telugu and Tamil film industries. But this is not her first step in Hindi films. Kajal played a small part in the Aishwarya Rai-Vivek Oberoi starrer Kyun! Ho Gaya Na… Also, the pretty girl was born and brought up the heartland of Hindi films (Mumbai), so this film is a homecoming of sorts for her.
You first appeared in Bollywood in Kyun! Ho Gaya Na… So what took you so long to come back?
I don't actually consider Kyun! Ho Gaya Na… my debut in Hindi cinema – I barely had one shot in that. And I was in the ninth grade, so I was 13 or 14. At that time, I just did it for fun. Acting was not on the agenda. I was very focussed on my education. Even till college I wasn't sure if I wanted to get into acting. Then I started getting a lot of offers from the south, which I took up. And after doing a couple of movies in the South, I realised I liked it and decided to make acting a full-time profession.
You are being introduced as the 'new Kajal in Ajay Devgn's life'. Have you met his wife, Kajol?
I find that really funny! Anyway, I am a very big fan of hers. In fact, I told Ajay this too. Unfortunately, I have not met her yet. After every schedule I had to run to my next film, so I did not get to interact with anyone really. But I am really looking forward to meet her soon.
How did Singham come your way?
I got a call from Rohit (Shetty)'s office when I was shooting for a Telugu film in Hyderabad. Rohit had seen my movie Magadheera, which is a very big Telugu film. He liked my role in it and the way I had performed. He thought I was very appropriate for Kavya's character in Singham.
Singham is an action-packed film and has Ajay Devgn written all over it. Do you think your role is powerful enough to make an impact?
Yes, it is essentially an action flick. Nonetheless, it has other elements to it, like drama, emotion and a very sweet romance. I don't really feel that you have to be on screen all through the film to make your presence felt. My character is small, but it is extremely important. It can't be missed. I think even if it's a role of ten minutes, one can make an impact.
Don't you fear being overshadowed by the star power of Ajay Devgn?
In fact, I feel that because I am starting out with a star like Ajay Devgn, it's better for me. He was very helpful. Acting is like second nature to him. He is just so amazing at his job! He is so comfortable with whatever he does. I have picked up a lot and have grown as an artiste.
What's your character in Singham?
I play the character of Kavya. She is this sweet girl-next-door, a Goan Maharashtrian. That's the only part that has been modified to keep Hindi sensibilities in mind. She is a fun-loving and innocent girl with a mischievous streak and loves to play pranks on everybody.
Often actors who start out with girl-next-door roles get stuck in them. Then they have to do something drastic (read glamorous roles) to prove that they can portray different characters as well. How do you intend to deal with that?
Yes, you are right – there is always the danger of getting typecast. But I am not really worried about it. I started in the south as a girl next door, as a village belle in my first Telugu film. I am not saying the same thing will happen with me in Hindi films as well. I don't know what the future has in store for me. I feel that if you can show your acting capability, nothing will really stop you or hold you back.
Bollywood is bolder and more glamorous than the Telugu and Tamil films you have done. Are you prepared for it?
Yes, you have a point. The south is glamorous, but I think they still have their reservations about certain things. No offence to anybody who believes in portraying certain characters, but I do have my reservations about certain things that I am not going to do. But I do believe in one thing – that you can be glamorous in a sari or wearing a full-sleeved T-shirt and fitted pair of jeans. You don't really have to show skin to be glamorous. I think the words 'glamour' and 'glamorous' are very badly used by us. 'Glamorous' can be just about having a gorgeous face and lustrous hair, just like in ads. Those girls look so glamorous! You don't really have to wear a bikini for that.
That means you have a problem with skin show?
I don't have a problem looking hot or sexy. Skin show to a limit, where it's decent, is okay with me. There is a very fine line between decency and vulgarity. So when that line is crossed and it becomes vulgar – I do have a problem with that.
Since you had the advantage of working with Ajay Devgn, did you get any career advice?
No, he told me a lot of anecdotes from his run in the industry, and he's told me many experiences of his, but has not given me any instructions or to-do lists.
Have you signed any other Hindi films?
I do have a couple of Hindi films, but I am not allowed to announce anything yet. As of now, I am completing my south commitments – one Telugu film with Mahesh (Babu) and one Tamil film with Surya.