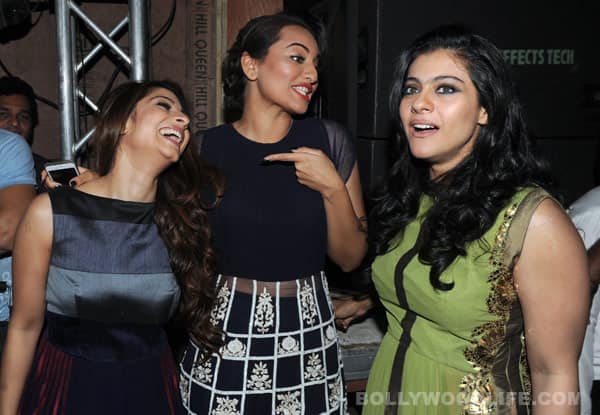 If a picture speaks a thousand words, the camaraderie shared between this trio is evident of the fact that all is well between Tanishaa Mukerji, Kajol and Sonakshi Sinha
The recently concluded Lakme Fashion Week unfolded the usual fashion carnival and a major controversy. While we enjoyed the regular display of designs, colours and vibrancy at the glam event, what caught our eyeballs was what transpired between Sonakshi Sinha and Kajol.
It was (falsely) reported that Sona ignored Kajol completely during the show. We hear that whenever the two bumped into each other the two looked through each other. We also heard that Sona chose to ignore Kajol's sister Tanishaa Mukherjee at the do.
These cold vibes, we heard, stemmed from Ajay Devgn's special bond with Sonakshi Sinha. Ever since the two have worked together in Son Of Sardaar, the duo has been sharing a good camaraderie on and off the screen. This 'friendly' equation between Sona and Ajay, apparently, was the cause of a cold war of sorts situation between Kajol and Sona.
But here's one picture that will banish the dark rumours revolving around an issue that doesn't have a legitimate existence in the first place. Kajol and Tanisha met Sonakshi before she walked the ramp for Manish Malhotra and were seen having some real fun together at the event. In fact, Tanisha was chatting up with Sonakshi in her room when she was getting ready for the show.
The picture is self explanatory, isn't it?