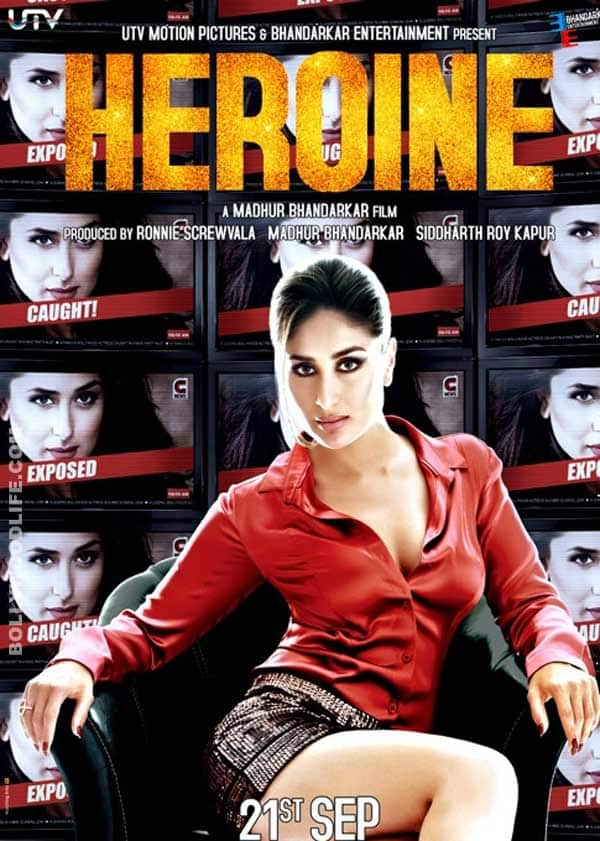 After days filled with Heroine-this and Heroine-that, we are told that Madhur Bhandarkar's movie won't have a properly starry premiere, as earlier planned. Why so?
The Kareena Kapoor-starrer Heroine as been coloured with controversy since the day it was announced. Starting with Aishwarya Rai Bachchan being replaced with Bebo, to the censor board frowning upon scenes showcasing KK with the nicotine stick, we've had almost a Heroine overdose.
So guess we can't be blamed for being heart-broken over the no-premiere buzz. Why, it was like the most potent dope being snatched away, right? And that made us frantically hunt for reasons that happened to be pretty obvious once we thought about them.
For starters, it's the Heroine's birthday. And beau Saif Ali Khan plans to whisk Bebo off to her favourite hotel in London right on the day when the film releases. Well, we don't want to grudge the couple – who still seem undecided on their wedding-date status – their special moments. 'Coz probably they need to spend some time together to (hopefully) accept that they are finally going to be man and wife, no? Anyway, now with Kareena gone, having a premiere without the 'heroine' would be so…errr…not happening, right?
And then we've heard that this movie plans to reveal the…ahem ahem… dirty secrets of B-town. Some will be those that, we are told, might point a sneaky finger at star wives like Gauri Khan (Shahrukh Khan's wife) and Sussanne Roshan (Hrithik Roshan's wife). So the makers (and Bebo) are nervous about how Bollywoodwalas will react to it all. That's why Bhandarkar has decided to stick to special screenings – like the one that was held at Ketnav in Mumbai – just to gauge reactions, perhaps.
Sigh! So there- the reasons why the grand premiere of Heroine might be called off have been laid out for you, readers. But tell us: do you think these are justified? Will cancelling the premiere really make a difference?