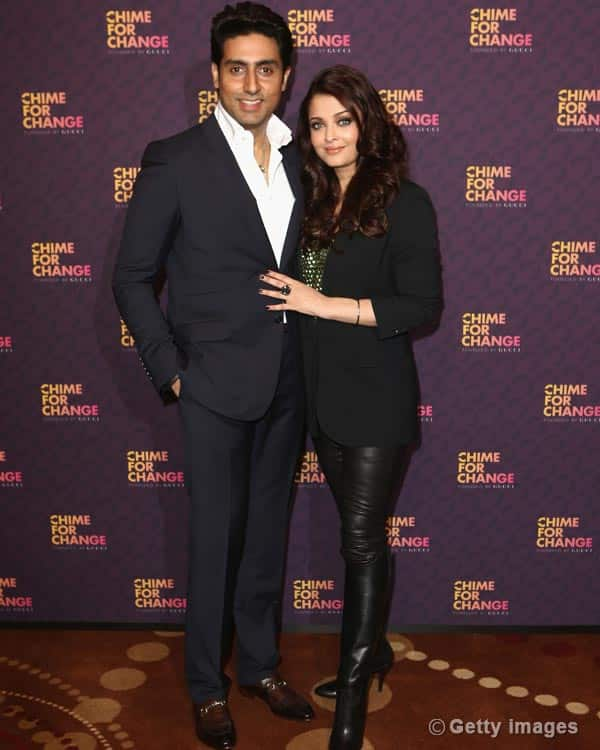 Well, if you thought there is trouble brewing in Ash and Abhi's blissful paradise, then you are absolutely wrong…
Ever since Aishwarya Rai Bachchan decided to make a comeback on the big screen, there has been a lot of speculation about her signing various films including Gaurang Doshi's Happy Anniversary. Earlier, we also reported that the blue-eyed beauty will romance hubby dearest Abhishek Bachchan in the film. But it looks like when-will-she-make-her-comeback guessing game is still on as far as former Miss World's acting career goes. We say so 'coz the Bol Bachchan actor has denied all the reports about doing Happy Anniversary along with his gorgeous wifey. Yes, the couple has met Prahlad Kakkar who will be directing the film but things haven't materialised as yet.
"We haven't heard the full script. Things are yet to be confirmed…we can't confirm anything right now it is too premature. When things happen we shall let you know" clarified the Dhoom:3 star at a recent event.
We may have to wait a little longer to see Ash-Abhi jodi in a film, but for all their fans there is one reason to rejoice. We hear this adarsh pati-patni jodi have been signed as brand ambassadors by TTK Prestige. The duo will endorse Prestige cookware for three years. Chalo, at least we will get to see this pair together in advertisements for now, hai na?
But we wonder if Ash's going the Karisma Kapoor and Kajol way post marriage. We just hope she doesn't end up becoming a Nirma (remember washing powder) heroine!